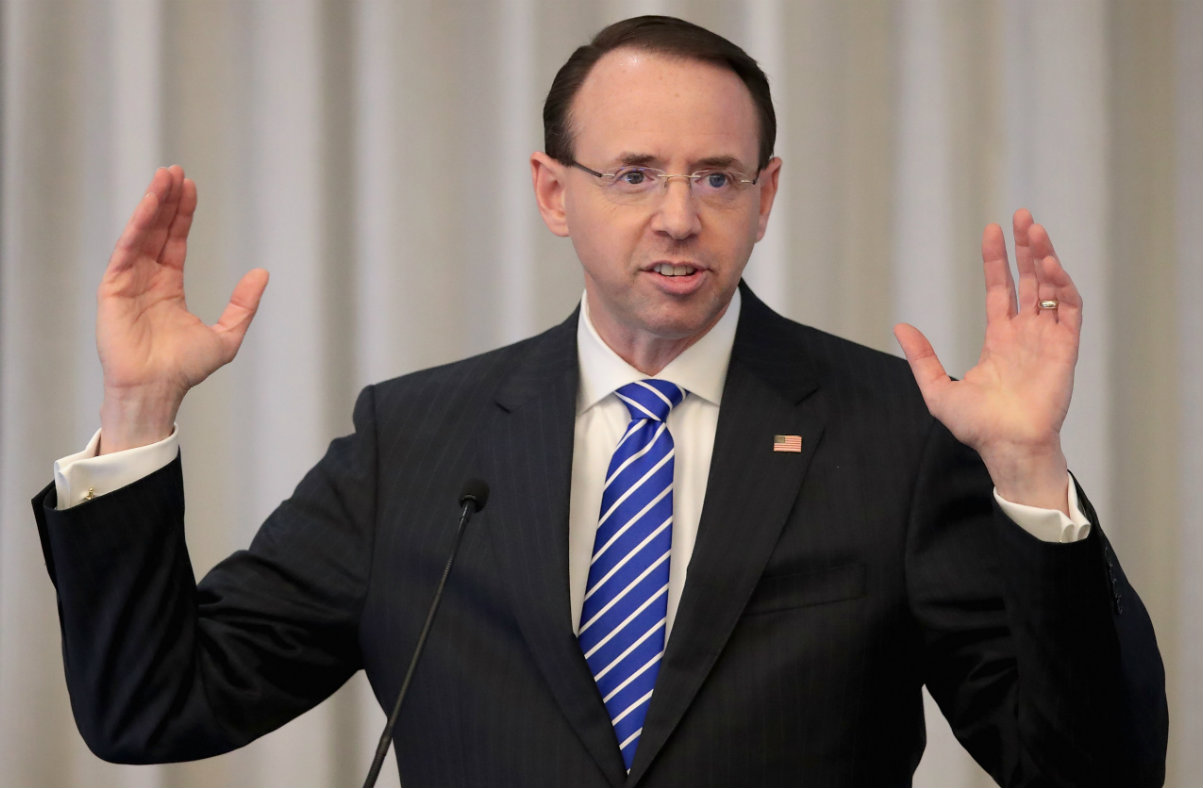 Deputy Attorney General Rod Rosenstein has made an unusual request to the nation's federal prosecutors: help the Department of Justice review Brett Kavanaugh's long paper trail of government documents.
Rosenstein made the request in an email titled, "Personal Message to U.S. Attorneys From the Deputy A.G."
Typically, Justice Department attorneys help facilitate document production requests for Supreme Court nominees by themselves, but the use of the nation's leading criminal prosecutors has many observers perplexed.
Christopher Hunter, a former federal prosecutor who is running for Congress as a centrist Democrat, told the Times:

It's flat-out wrong to have career federal prosecutors engaged in a political process like the vetting of a Supreme Court nominee. It takes them away from the mission they're supposed to be fulfilling, which is effective criminal justice enforcement.
Rosenstein's decision to enlist assistant U.S. Attorneys is reportedly due to the inordinate amount of documents related to Kavanaugh's time in government prior to his time as a judge on the D.C. Circuit Court.
The Trump administration is currently being sued for unlawfully withholding in excess of 20,000 documents related to Kavanaugh's tenure as a member of the legal team that impeached former president Bill Clinton and during his similarly controversial time as a member of the George W. Bush administration's legal team. Those lawsuits, directed against the DOJ and National Archives and Records Administation, were filed by non-partisan judicial watchdog groups Fix the Court  and American Oversight on Tuesday.
The Rosenstein recruitment email contains the innocuous line, "We need your help in connection with President Trump's nomination of Judge Brett Kavanaugh to serve on the Supreme Court."
This email was addressed to all 93 of the nation's U.S. Attorneys. There are 94 federal districts in the country and each of them has their own U.S. Attorney's office–with the exception of Guam and the Northern Marianas, which share the same one.
In the email, obtained by the New York Times, Rosenstein requested that each office provide up to three federal prosecutors, "who can make this important project a priority for the next several weeks." Those names are expected to be provided by the end of day on Wednesday.
[image via Scott Olson/Getty Images]
Follow Colin Kalmbacher on Twitter: @colinkalmbacher
Have a tip we should know? [email protected]