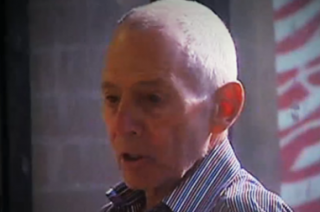 Robert Durst is scheduled to be sentenced on Wednesday after pleading guilty in February to a weapons charge with an 85-month prison term, the Associated Press reported. He is currently incarcerated in Louisiana, where he was arrested last year.
Now, Durst, 72, is asking Judge Kurt Englehardt to sentence him to a California prison, due to health issues that his attorneys say can better be managed at Terminal Island prison. Additionally, the real estate heir is still waiting to stand trial in Los Angeles for the death of his friend Susan Berman, which happened in 2000.
Judge Englehardt said he will review Durst's plea agreement and a pre-sentencing report, and will determine the details of the sentence at the Wednesday hearing.
[Screengrab via Fox News]
Have a tip we should know? [email protected]