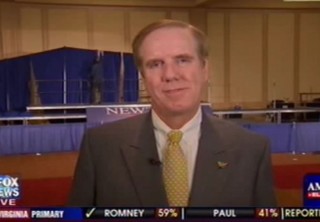 Randy Evans, an outspoken member of the RNC Rules Standing Committee, told an Atlanta reporter that 'everyone is gearing' up for a fight at the convention with the #NeverTrump movement. While Evans thinks it would be implausible for Donald Trump to be denied the nomination, he still says it is not impossible.
"You're counting on a lot to convince a party regular to throw the convention into chaos … But I would't be telling you the truth to say that it's not a realistic possibility — and everyone is gearing up for it," Evans told reporter Greg Bluestein at The Atlanta-Journal Constitution. Evans is an attorney from Georgia.
Apparently, the anti-Trump forces are gaining momentum across the country, including in Georgia. Dozens of the state's delegates got text messages urging them to Dump Trump, according to the newspaper. Many in the movement are hoping for a RNC committee rule change that would support a "conscience clause"  which would allow delegates for Trump to vote their conscience.
Despite what Trump has told the public, as we've reported, it would be perfectly within the bounds of the law to deprive Trump the nomination in July. Ex-Congresswoman Enid Mickelson is the chairwoman of the RNC Rules Committee at the convention. She is reportedly an ally of the Bush family and Mitt Romney. And, in fact, she is quoted in March  saying existing nomination rules — including those that bind delegates as a result of their state primaries and caucuses — can all be changed. On top of that, she's apparently not a huge fan of Mr. Trump.
"Neither Hillary Clinton nor Donald Trump are going to be people that we point our children toward and say, 'I want you to be just like them when you grow up,'" she recently said.
However, among most political experts, denying Trump the nomination still remains a far-fetched fantasy that has little chance of success. But, as we've learned in this election anything is possible. It appears that RNC leaders are gearing up for the possibility nonetheless.
Have a tip we should know? [email protected]
Rachel Stockman - President / On Air Host