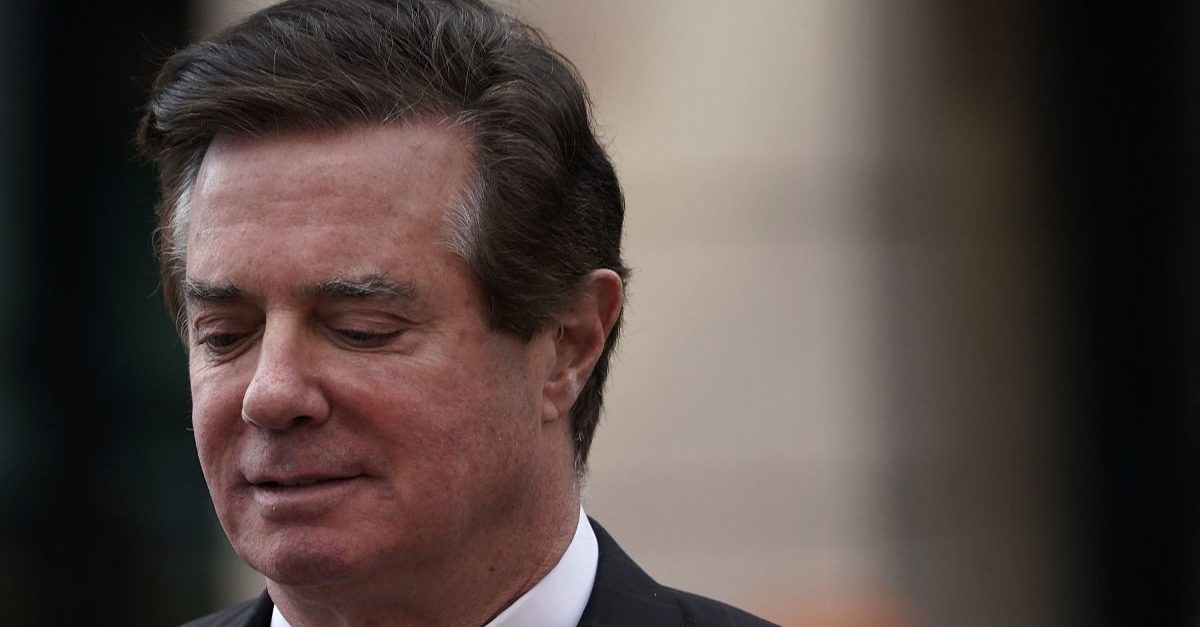 Rick Gates clarified various aspects of the government's case against his former boss Paul Manafort during extensive direct testimony on Tuesday. Through patient explanation, volumes of otherwise dry and somewhat confusing evidence regarding tax evasion was brought into context by special counsel Robert Mueller's star witness.
Much of Gates' testimony focused on laying out the multiple moving parts within Manafort's alleged overarching scheme to avoid paying taxes on millions of dollars worth of income. The behavior charged in the indictment allegedly began in Cyprus, but following that nation's banking crisis in 2011, activity and accounts eventually shifted to Saint Vincent and the Grenadines.
Here's how Gates said the scheme worked.
"In essence, you had four people setting up a Cypriot entity," but without the name of the person in charge appearing on most of the documents. Those names were typically lawyers associated with Ukrainian attorney and politician Kypros Chrysostomides, who in court goes by the handle, "Dr. K."
When asked by Assistant U.S. Attorney (AUSA) Greg Andres whether Gates understood there was "some level of secrecy involved," Manafort's former right-hand man assented and added that "[Manafort] understood his name would not be represented." These accounts, Gates added, predated his tenure at Manafort's DMP International.
After setting up the relationship with a Cypriot bank, the name of a shell company was then chosen by Dr. K or another attorney at his firm, Gates said. Thus the odd and seemingly unrelated names attached to Manafort's 15 foreign entities.
And those entities, Gates testified, never once did any sort of actual business—they were simply a vehicle for Manafort's funds to escape detection. The "sole purpose," Gates said, was to facilitate Ukrainian payments to Manafort. Gates noted that all such payments were income earned via Manafort's political consulting work in Ukraine.
The transfers would usually occur when Manafort made requests for Gates to initiate them—often through a list of to-be-sent wire transfers provided by Manafort to Gates via email.
Gates also testified that he received a "template" from attorneys in Cyprus which he then used to create fake "consultancy agreements" at Manafort's direction. These fake agreements were necessary, Gates said, "in order to make transfers" out of the Cyprus-based entities.
After Cyprus' financial collapse, a more through form of documentation was required in St. Vincent. This time, however, Manafort himself provided Gates the template to be used for vendor payments, according to the witness. Gates would fill out such templates based on information he received from Manafort and then Dr. K's law firm would move the funds.
According to Gates, Manafort had a great deal of knowledge and control over the dispensation of funds—personally signing on the payments "hundreds" of times.
Sometimes, however, Gates said he would perform the same task without Manafort's direction or knowledge in order to embezzle funds from his employer. Or, in Gates' own words, to make "unauthorized transfers." This later became an obvious sticking point for the defense, who ultimately cajoled an unwilling Gates to actually use the E-word.
Another discussion focused on Manafort's practice of classifying income as loans and then later creating whole-cloth documents in order to misrepresent those false "loans" as valid. This kept the scheme mostly hidden from accountants and bookkeepers—though immunized witness Cynthia Laporta earlier testified that she had her doubts about the veracity of Manafort's and Gates's representations surrounding the loans.
When asked by Andres why payment for consulting purposes was being disguised as loans, Gates said, "I believe [Mr. Manafort] was trying to decrease the amount of taxable income on his tax return."
While reviewing another purported "loan agreement," Gates was asked what the purpose of such documents were. He replied, "It was a way to make sure every financial transaction…was tracked." When pressed to clarify whether any of the transactions were actually loans, Gates said:
"They were documented as loans, but in reality they were funds moving between the accounts."
Judge T.S. Ellis III then asked Gates to clarify if those "loans" were actually just income—specifically payment for services—earned and not declared by Manafort.
Gates replied, "Correct."
[Image via Alex Wong/Getty Images]
Follow Colin Kalmbacher on Twitter
Have a tip we should know? [email protected]