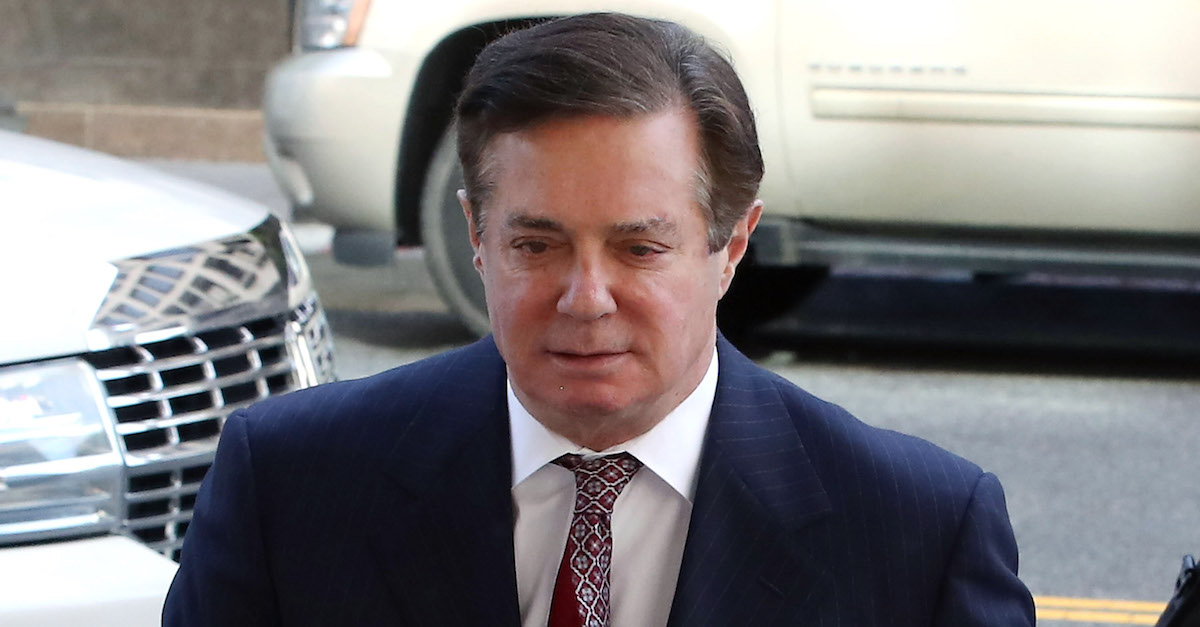 Multiple forged documents were explained in easy-to-understand language by witness Rick Gates during Paul Manafort's bank fraud and tax evasion trial in the Eastern District of Virginia (EDVA).
The prosecution brought renewed attention to a series of mysterious forgeries on Tuesday. This evidence was recovered during the FBI's raid on Manafort's Alexandria condominium in July 2017.
Readers may recall these documents were given extensive focus during the first half of the prosecution's case-in-chief last week. Well, extensive to the extent that they were understood—which is to say, not much.
That has changed.
As previously reported by Law&Crime, multiple vendors were presented with misspelled and inaccurate forgeries for clients they simply never had. Each vendor maintained ignorance while pointing out various mistakes contained on the forged invoices.
Some invoices purported to satisfy debts owed to bespoke menswear maven Alan Couture. Others to high-priced audio/visual company Big Picture Solutions. Still others feigned relationships with the New Leaf Landscape Maintenance company and SP&C Home Improvement. All companies provided various and expensive services to Manafort—typically being paid by international wire transfers.
As it turns out, the invoices—while admittedly fabricated—were real to a degree. According to Gates, each forged invoice was simply used to satisfy documentation requirements mandated by banks in Saint Vincent and the Grenadines.
Such documentation "had to have the name of the company itself," before a St. Vincent bank would release the funds, Gates noted. And these companies were frequently used to surreptitiously repatriate Manafort's income—often by settling debts.
The fake invoices were only provided to St. Vincent banks in order to satisfy those aforementioned documentation standards. In other words, they were not provided to anyone else. And Gates said he always worked off a template given to him by his former boss.
When asked how he knew what to add into the allegedly Manafort-supplied templates, Gates testified, "I took it off the information Paul Manafort had provided in the wire transfer request."
Gates also said he never personally used the vendors paid in this fashion and that all payments were "legitimate payments" made to satisfy Manafort's outstanding accounts with the vendors in question.
Gates said, "the payment was legitimate," while referring to the forged documents as "modified invoices."
Gates stressed that he made such payments—and created the fake or "modified" invoices directly at Manafort's request. Adding, "I believe it was one-to-one." That is, outstanding bills for Manafort's well-heeled lifestyle were not aggregated, according to the witness.
Gates also made clear that he never visited Manafort's Hamptons estate, where much of the paid-for-work was done.
[image via Mark Wilson/Getty Images]
Follow Colin Kalmbacher on Twitter 
Have a tip we should know? [email protected]