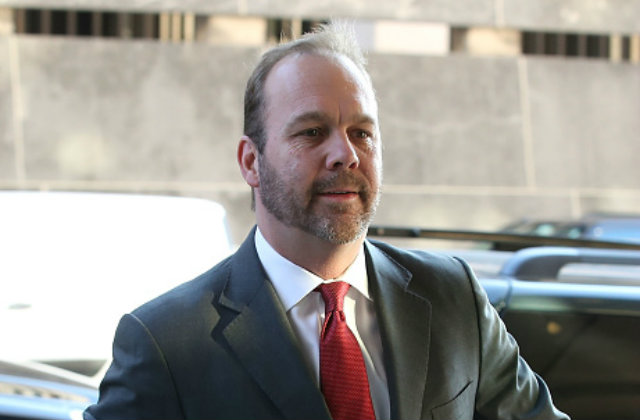 Attorneys for Richard Gates announced Thursday that they want to withdraw from the case. It's unclear why.
"Pursuant to LocalRules 44.5(d), undersigned counsel hereby move to withdraw as counsel of record in this case effective immediately for the reasons set forth in Exhibit 1 which is the subject of a motion to be filed under seal," said the filing by lawyers Shanlon Wu, Walter Mack, and Annemarie McAvoy.
Don't expect anyone involved to publicly comment on this. The judge issued a gag order on both sides of the case.
Gates and co-defendant Paul Manafort, the former Trump campaign manager, were indicted for their work with the Ukrainian government. Charges are conspiracy to defraud the United States, money laundering, failure to file reports of foreign bank and financial accounts, working as unregistered agents of the Ukrainian government, making false and misleading FARA statements, and making false statements. Both men pleaded not guilty. This case spun out of Special Counsel Robert Mueller's investigation into 2016 election interference, but the counts don't have to do with alleged ties between the Trump campaign and Russia.
"There could be a number of reasons for the 'request to withdraw,'" Bill Thomas, an Atlanta-based defense lawyer and former federal prosecutor, told Law&Crime. "Generally most consider that once you have entered an appearance, you will be there for the duration, and the reasons have to be pretty compelling for the court to let you out. I would speculate here that the withdrawal is for one of two reasons (although there could be others), one is a conflict between the attorneys and the defendant such that they cannot continue to work together. The other reason would be if there was a 'conflict' that presented itself that would preclude the attorneys from continuing the representation. There could be other reasons, but this is the one that I think readily present themselves."
A source said Gates retained white-collar attorney Tom Green, according to a CNN report last week, but he's not listed in federal records as one of Gates' attorneys as of Thursday. All the attorneys declined to comment in that story.
[Screengrab via Mark Wilson/Getty Images]
Have a tip we should know? [email protected]