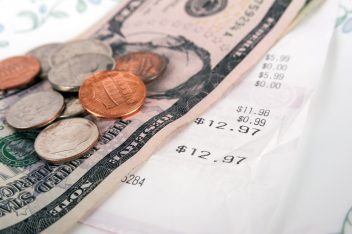 A member of the Lebanon Valley College men's basketball team says a restaurant owner in Annville, PA told him to leave the establishment in the middle of his meal, while using racial slurs.
PennLive.com reports Rickey Lee Bugg Jr. says he was eating with friends at Just Wing It in Annville around 1:30 a.m. on Sunday morning when the manager burst out of the back and said, "I don't need your…money," while also dropping a racial slur.
Bugg says the waitress refunded their money, but not before the manager came out from the back again and "they exchanged words," according to the newspaper account.
Bugg admitted to yelling at the owner and to flipping "a few chairs" as things got heated.
"That's not the way to treat people," Bugg said.
He also said the manager cited the current president, Donald Trump, saying now that Trump is president, "I can say what I want."
Bugg told reporters his group was alone in the restaurant during the incident, but he says another group of students arrived as his group left.
However, other students reportedly said Bugg was acting disorderly during the incident.
The police are reportedly investigating and a school spokesperson acknowledged police involvement, saying the school planned to cooperate.
"LVC rejects all hatred and bias. Racist attitudes in no way reflect the culture of our campus," school spokeswoman Molly O'Brien-Foelsch said. "The campus community, trustees, public and township and community leaders have been given updates, and the college is partnering with them to identify ways to strengthen the community."
The owner of Just Wing It has apparently not commented on the alleged incident and phone lines have been disconnected.  The website has also been redirected to what appeared to be a MoveOn.org affiliated website as of just before 5:00 p.m. EST.
The LVC community is handling the aftermath with support through Student Affairs and counseling.
UPDATE:
A local news channel investigating the incident after it became national news yesterday reminded everyone in a report last night that there are two sides to every story.
"FOX 43 News reached out to the owners to get their side as an employee at the restaurant says the story isn't true," the news station reported on Monday night.
Nonetheless, Chief Bernard Dugan says his department is still investigating and if a racial slur was used in this manner, the person who said it could face ethnic intimidation charges, under Pennsylvania law.
[image via shutterstock]
Have a tip we should know? [email protected]