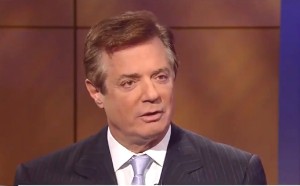 In a New York Times cover piece, reporters detail how Ukrainian anti-corruption officials are focusing in on handwritten ledgers that show $12.7 million in undisclosed cash payments designated for Donald Trump's campaign manager Paul Manafort. According to The Times, the ledgers are from "Mr. Yanukovych's pro-Russian political party from 2007 to 2012, according to Ukraine's newly formed National Anti-Corruption Bureau." The anti-corruption investigators told The Times that the money was part of an illegal off-the books systems, which also included election officials. Officials investigating the payments note that they don't know yet if Manafort actually received the payments.
Prior to taking the job with Trump's campaign, Manafort consulted for pro-Russian politicians in the Ukraine, including helping former Ukrainian Prime Minister Viktor Yanukovych (a Vladimir Putin ally). The article contends Manafort even had personal items and office furniture in Ukraine as recently as May of this year.
This nugget from the bombshell Manafort story tonight: https://t.co/osNRkAU00v pic.twitter.com/bzbaMtNPG9

— Sopan Deb (@SopanDeb) August 15, 2016
The Times reports that prosecutors are also looking at a group of offshore shell companies that helped members of Yanukovych's inner circle finance lavish lifestyles. Apparently, unlike the payments, Manafort is not the focus of that investigation.
Early this morning, Paul Manafort released this statement: 
Paul Manafort on @nytimes/Ukraine report: suggestion he accepted cash payments "unfounded, silly and nonsensical" pic.twitter.com/EyQzIOradc

— Hallie Jackson (@HallieJackson) August 15, 2016

Hillary Clinton's campaign has also weighed in:
Clinton campaign statement on @nytimes Paul Manafort story: pic.twitter.com/wOEzjSnrrq

— Monica Alba (@albamonica) August 15, 2016
[updated with Paul Manafort's statement]
Have a tip we should know? [email protected]
Rachel Stockman - President / On Air Host