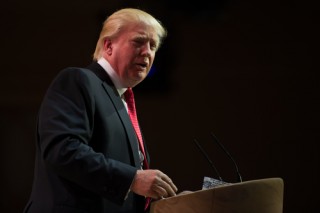 A report published by the Washington Post on Tuesday delved into Donald Trump's claims of how much he gives to charity. Trump, the presumptive Republican Presidential nominee, gave $1 million to an organization that helps families of veterans in May, after speculation over whether he had honored a pledge made earlier in the year.
The report from the Post claims that prior to the veterans gift, Trump pledged roughly $8.5 million in donations through ventures of his like Trump University, Trump Vodka, and "The Apprentice." According to public records, however, Trump's charitable foundation has only given approximately $2.8 million, and Trump himself is not on record as donating to the foundation since 2008.
The Post looked into whether Trump may have personally made donations, not through the foundation, since 2008, and went through a list of 167 charities they compiled by going through organizations whose galas he appeared at, he mentioned in public, or gave to through the foundation. Out of the 167 organizations, the Post found records of Trump giving to only one, the Police Athletic League of New York City, to whom he gave one donation in the range of $5,000 and $9,999 back in 2009.
The Trump camp claims that he has given plenty in private donations not on the foundation's books. This could be confirmed by Trump's tax returns, except so far Trump has refused to turn them over, claiming that an audit keeps him from doing so.
Have a tip we should know? [email protected]