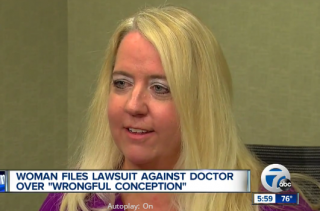 In 2008, Lori Cichewicz planned on undergoing a permanent birth control procedure so that she wouldn't get pregnant. Her doctor told her it wasn't necessary because she couldn't conceive anyway. Now, Cichewicz is the 50-year-old mother of a child with Down Syndrome, and she's suing the physician who said it couldn't happen, WJBK reported.
The Michigan woman gave birth to her daughter three years after her doctor said it was impossible. She is suing for wrongful conception, over the emotional distress she claims was caused by the doctor's negligence. The court has limited damages to stress related to conception, so she cannot get money for the expense of raising a special needs child.
Cichewicz discussed that stress with WXYZ. "I'm older, I don't know, will I see her graduate college? Will I see her go to college? Will I see her get married? Will I see her graduate high school? All this is going through my mind," she said.
But she never questioned whether she would have the baby, and is thrilled to have her daughter Reagan in her life. "She's full of life, loving, kind, sweet, everything you could ever imagine," Cichewicz said. "I can't imagine life without her now. When they say having a child with special needs is a gift, it's a gift."
Have a tip we should know? [email protected]