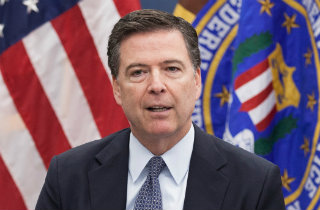 James Comey became a household name this election season, bringing the Federal Bureau of Investigation into the political spotlight like never before.  The FBI Director managed to anger people on both sides of the political aisle over his handling of the investigation into Hillary Clinton's use of a private email server.  The controversy Comey stirred up during the election season may now cost him his job, according to a new report.
A report published on Monday by NPR cites three sources that say President-elect Donald Trump's advisors have still not decided on whether Comey should be retained as FBI Director.
Comey is currently only three years into his 10-year term as FBI Director, but the president has the power to force him out before the term is up.
The NPR report seems to follow closely with what President-elect Trump told CBS News correspondent Leslie Stahl on Sunday.  In an interview on 60 Minutes, Trump made it clear that he had not yet made up his mind about whether to ask for Comey's resignation.
"I haven't made up my mind," Trump told Stahl. "I respect him a lot, I respect the FBI a lot … I would like to talk to him before I answer a question like that."
Seemingly referring to the email investigation, Trump added, "I'd want to see, he may have had very good reasons for doing what he did."
Trump would not be the first president to fire an FBI Director before the end of the 10-year term.  In 1993, then-President Bill Clinton fired FBI Director William Sessions after a Justice Department ethics investigation found that he abused his office by failing to pay taxes on his use of an FBI vehicle and for billing the government for work done on his private home.
[image via FBI]
Have a tip we should know? [email protected]