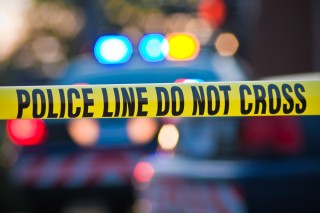 A 14-year-old Wisconsin girl is facing attempted murder charges after a horrific incident where she allegedly tried to kill her brother's girlfriend. Kali Jade Bookey was arrested last week on attempted murder charges and is currently being held in juvenile custody, according to the Leader-Telegram newspaper. Police charged her as an adult for attempted first-degree intentional homicide.
The criminal complaint, filed on Thursday, said that Bookey called the St. Croix County Sheriff's Office to report that two men tried to kidnap her while she was riding her bike, and that she told the men that her brother's girlfriend was home alone and they should take her. Deputies later found the girlfriend, 15, bleeding heavily in her home, and they took her to a hospital.
The girl survived, and told authorities that Bookey was the one who attacked her, first covering her mouth and punching her, then hitting her over the head with two bowls, and then using a broken fragment of a bowl to cut her throat. "Have a nice afterlife," Bookey allegedly told her during the attack. The complaint said that Bookey described herself to the girl as a "crazy psychopath," and that she was looking for her first kill. Bookey allegedly asked the girl if she wanted Bookey to kill her then and there, or to let her bleed out. She opted for the latter, and lived to tell the police.
At first, Bookey denied being responsible, but eventually admitted to investigators that she had planned the attack in advance, the Associated Press reported. Bookey reportedly said she was not trying to kill the girl, but did want her to pass out from blood loss to scare her. Investigators said Bookey told them she hated the girl because of her relationship with Bookey's brother, so she planned the attack to get the girl and her mother to move away so that her brother would "come back to the family." Bookey reportedly said she knew when the girl would be home alone, and started plotting a week and a half before she carried out the alleged assault.
Bookey's preliminary hearing will take place on August 8.
[Image via Shutterstock]
Have a tip we should know? [email protected]