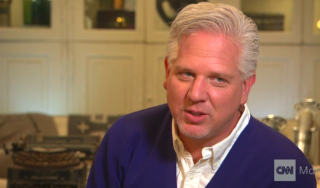 Conservative television and radio host Glenn Beck has filed a lawsuit in Texas against the man who used to run his entertainment and news network, TheBlaze, according to sources close to Mr. Beck. The petition, obtained by LawNewz.com, was filed on behalf of Mercury Radio Arts, which serves as Beck's production and operating company over TheBlaze. The complaint accuses Chris Balfe of breach of contract, general mismanagement, breach of fiduciary duty, and fraud.  Balfe served as the COO of Mercury Radio Arts and was CEO of TheBlaze until he left in December 2014 to start his own company, Red Seat Ventures.  Balfe had worked for Beck for more than 10 years, and was credited with helping to grow Beck's business.
"I am embarrassed and saddened it has come to this. It is an ongoing legal matter so you will not hear me speak of this often but as always, I want you to hear it from me," Beck wrote on his website on Monday.
Beck's lawsuit comes amid reports of internal financial turmoil at TheBlaze. The complaint alleges between 2009 and 2014, Balfe's compensation totaled in excess of $13 million.
"This is a shockingly excessive amount that far exceeds appropriate compensation for companies of Mercury and TheBlaze's size and financial performance," Eliot Burriss, an attorney for Mr. Beck, wrote in the lawsuit, adding that Balfe never submitted his executive compensation to Mercury's board of directors.
The complaint also accuses Balfe of "fraudulently causing Mercury to sign an unnecessary lease thereby taking on a $20 million liability." The paperwork states Mercury currently has a lease for the entire 12th floor of Five Bryant Park in Manhattan.
Balfe is also accused of breaching an agreement which prohibits him from competing with or hiring employees of TheBlaze for three years. According to Red Seat Ventures' website, all four team members listed on the site came from TheBlaze or Mercury Radio Arts. Red Seat Ventures works with talent and personalities to build media properties.
Attorneys for Mr. Balfe have not yet commented on this lawsuit. The complaint comes amid reports by The Daily Beast that TheBlaze is millions of dollars in the "hole." Still, Beck's radio program remains one of the top syndicated shows in the country, attracting millions of listeners.
The lawsuit seeks to recover all money paid to Balfe since he allegedly breached his duties to Mercury, as well as Balfe's interest in TheBlaze.  A source close to Mr. Beck confirms the lawsuit was filed late Friday afternoon.
[screengrab via CNN Money]
Updated at 10:33 a.m 8/1/2016  with statement from Glenn Back and hyperlink to petition. 
Update at 8:00 pm 8/1/2016 Christopher Balfe released the following statement via his attorney:
"I feel terrible for Glenn and I hope he finds the help that he needs."
Have a tip we should know? [email protected]
Rachel Stockman - President / On Air Host