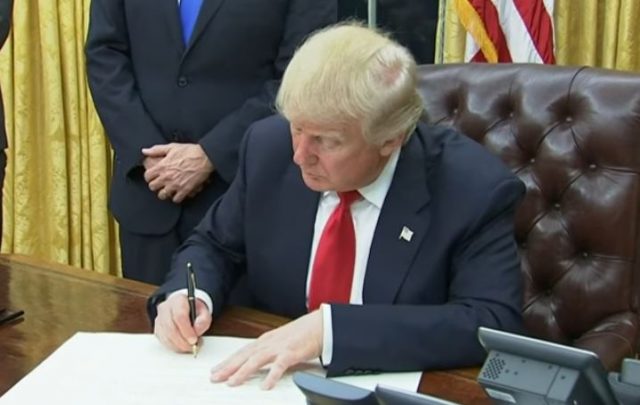 The White House is planning on issuing an executive order that would send ISIS detainees to the Guantánamo Bay prison, according to The New York Times. This comes despite reported warnings against this by legal scholars and security officials, who say the order could backfire against the White House in the fight against the Islamic State.
The draft, which can be viewed below, calls for detention of "enemy combatants" associated with  al Qaeda, the Taliban, and the Islamic State. Experts, however, believe this could hurt U.S. interests, the Times reported. The recent draft omitted previous versions' language that called for bringing back CIA prisons, but there could still be a significant legal risk if Trump signs it.
National security officials have warned that by issuing the order, it gives the judicial branch the opportunity to rule on whether the fight against ISIS is even legal, because Congress did not authorize going to war against them. If an ISIS detainee files a habeas corpus suit against the U.S. government, the courts would get to evaluate this issue. The Obama administration took the approach that the fight against ISIS was the same as the conflict against al Qaeda and the Taliban, but because ISIS has since broken off from al Qaeda, this theory has become questionable.
Harvard Law professor and former Bush administration Justice Department official Jack Goldsmith told the Times, "If a judge says the Sept. 11 authorization does not cover such a detention, it would not only make that detention unlawful, it would weaken the legal basis for the entire war against the Islamic State."
It remains to be seen whether the Trump administration will ultimately heed these warnings and redraft the order, or if the President will sign it as is.
Executive Order by LawNewz on Scribd
Have a tip we should know? [email protected]