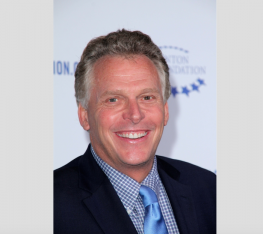 A new report on Monday afternoon says the FBI and prosecutors with the Department of Justice public integrity unit have spent the past year working on an investigation focused on Virginia Democratic Governor Terry McAuliffe.  As part of the investigation, investigators are said to have "scrutinized" McAuliffe's connection to the Clinton Global Initiative, in addition to probing matters related contributions to his gubernatorial campaign.
Based on sources close to the probe, CNN reports "investigators have scrutinized McAuliffe's time as a board member of the Clinton Global Initiative, a vehicle of the charitable foundation set up by former President Bill Clinton."
McAuliffe is a longtime ally of the both Clintons, having served as chairman of Hillary Clinton's 2008 presidential campaign.
The report goes on to state that there is currently no allegation of wrongdoing on the part of the Foundation, rather the investigation is focused on McAuliffe and the campaign contributions.
Specifically, one item federal investigators are said to be focused on is $120,000 donation that allegedly come from Wang Wenliang, a Chinese businessman.
Marc Elias, an attorney for the McAuliffe campaign, issued the following statement to CNN:
The Governor will certainly cooperate with the government if he is contacted about it. Neither the Governor nor his former campaign has knowledge of this matter, but as reported, contributions to the campaign from Mr. Wang were completely lawful.
Have a tip we should know? [email protected]