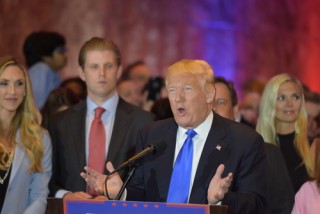 David Coy Johnston, a investigative journalist and expert on tax issues, penned an explosive article in Politico alleging that over the last 27 years he has discovered that Trump had multiple connections to organized crime and mobsters. In response, Trump told Johnston that he didn't remember many of the incidents, and even threatened to sue him.
So what are some of Johnston's allegations?
Trump hired 'mobbed-up firms' to erect Trump Tower and his Trump Plaza apartment building in Manhattan, including "buying ostensibly overpriced concrete from a company controlled by mafia chieftains Anthony "Fat Tony" Salerno and Paul Castellano. "
 Johnston found that the indictment that ultimately sent Salerno to prison listed the nearly $8 million contract at Trump Plaza as one of the ways that the feds established that Salerno was running a racketeering enterprise.
In 1980, Trump was reportedly subpoenaed to ask about his relationship with John Cody — an apparently close associate of the Gambino crime family. "The FBI believed that Cody previously had obtained free apartments from other developers," Johnston wrote. (Trump denied anything like that happened)
Johnston also claimed there were irregularities in Trump's first big construction project in 1979 — when he hired a demolition contractor (with about 200 nonunion workers) to take down a department store. "Normally the use of nonunion workers at a union job site would have guaranteed a picket line. Not at this site, however. Work proceeded because the Genovese family principally controlled the union," Johnston wrote. He further alleges this information came out in court documents and a report by the New York State Organized Crime Task force.
He also pointed to ties Trump had with Daniel Sullivan, a labor fixer and FBI informant. Johnston writes:

"Trump knew the Polish brigade was composed of underpaid illegal immigrants and that S&A was a mob-owned firm, according to Sullivan and others. "Donald told me that he was having his difficulties and he admitted to me that — seeking my advice — that he had some illegal Polish employees on the job. I reacted by saying to Donald that 'I think you are nuts,'" Sullivan testified at the time"
So there you have it, Donald Trump's alleged ties to the mob. Nothing in the article mentions anything after 1991. Though other journalists have pointed out Trump's ties to other Mafia-linked figures, Trump is sticking by the line that he barely remembers these people.
Have a tip we should know? [email protected]
Rachel Stockman - President / On Air Host