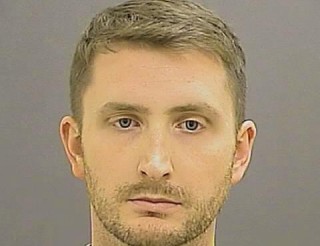 Judge Barry Williams took the weekend to review evidence in the trial of Officer Edward Nero, one of six officers charges with various offenses related to the death of Freddie Gray, who died of injuries that he sustained while in their custody. After looking over the evidence and testimony presented over the course of the trial, Williams found Nero not guilty of all charges. While Nero was involved in Gray's arrest, Williams determined that he did not commit any crimes in the process. The other officers await their own trials. This was the second trial related to Gray's death. The trial of Officer William Porter, who was charged with involuntary manslaughter, resulted in a hung jury, so a new trial is forthcoming.
Nero was not charged with Gray's actual death, just misdemeanors for assault, reckless endangerment, and misconduct in office for his alleged involvement in Gray's arrest and the events leading up to his death. Gray suffered his injuries after officers allegedly placed him in the back of a police vehicle while handcuffed, without buckling him with a seat-belt. An expert for the prosecution had said that Gray's injuries appeared to stem from being on the floor of the police vehicle, or from trying to stand up.
During the prosecution's closing argument, Judge Williams interrupted to challenge the assault claim. The prosecution's argument was not that Nero caused Gray's injuries, but that he assaulted him by being involved in what they claimed was an unjustified arrest. Testimony from co-defendant Officer Garrett Miller, who will face his own trial, indicated that he and Nero assisted in the arrest after being notified that other officers were pursuing Gray on foot. Miller stated that he was the one who placed Gray in handcuffs, while Nero aided in placing him in the police transport vehicle.
As far as Nero's role in allowing Gray to be kept in the back of the vehicle in handcuffs and without a seat-belt, Judge Williams felt that keeping Gray buckled in was not Nero's responsibility. While officers had been notified that a new police regulation required people in custody to be buckled in with a seat-belt, former Police Chief Timothy Longo testified that it was the driver's responsibility to make sure Gray was wearing a seat-belt, not Nero's.
Nero's acquittal does not necessarily have any bearing on what will happen in the trials of the other officers, as each one had a different role in Gray's arrest and they face different charges. Also, while Judge Williams himself decided Officer Nero's case, other cases may be heard by juries, like Officer Porter's trial.
Citizens in Baltimore broke out in violent protest after Gray's death, and Congressman Elijah Cummings is hoping that will not happen after Nero's acquittal. "We must remain vigilant to our moral code of peace, no matter what the verdict," he said before the verdict was announced. "The future of our community will not be defined at the moment of the verdict but in the days and years that will follow."
Update 5/23/16 11:24am: After Judge Williams announced his verdict, Baltimore Mayor Stephanie Rawlings-Blake said in a statement:
Today Judge Barry G. Williams found Officer Edward Nero not guilty of all criminal charges. This is our American system of justice and police officers must be afforded the same justice system as every other citizen in this city, state, and country. Now that the criminal case has come to an end, Officer Nero will face an administrative review by the Police Department. We once again ask the citizens to be patient and to allow the entire process to come to a conclusion. In the case of any disturbance in the city, we are prepared to respond. We will protect our neighborhoods, our businesses and the people of our city.
Have a tip we should know? [email protected]