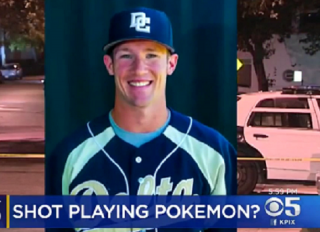 Police are still trying to figure out what happened Saturday night in San Francisco's Ghirardelli Square, when a college baseball player was shot and killed, SFGate.com reported. Calvin Riley, a 20-year-old pitcher for Delta College in Stockton, California, was reportedly hanging out in the popular tourist destination near Fisherman's Wharf, when an unknown person shot him in the chest. Paramedics tried to save him with CPR, but Riley was then pronounced dead at the scene.
According to a crowdfunding website set up to raise money for Riley's funeral, police told the family that Riley was playing Pokémon Go when he was killed. There have been many reports around the country of people being distracted by the popular mobile game and getting into dangerous situations. Investigators didn't say whether the game had anything to do with what happened. According to SFGate, people were playing the game in the area that weekend, including the following afternoon, and that homicides in that location are rare. Sgt. Robert Jansing of the U.S. Park Police said that the attack "makes no sense."
Authorities are hoping that because the park area is usually crowded, that they can locate people who witnessed what happened, or perhaps surveillance footage. People with information can call the U.S. Park Police tip line at (415) 561-5150.
[Screengrab via KPIX]
Have a tip we should know? [email protected]