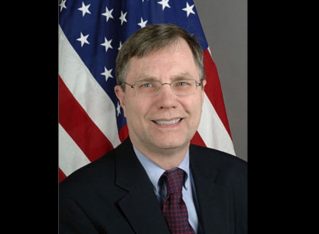 Donald Trump's administration is wasting little time making its presence known at the major institutions of power around Washington, D.C.  Over the weekend, Trump gave what many are calling a controversial speech at the Central Intelligence Agency and on Thursday he is reportedly causing a major shake up at the State Department.
CNN is reporting from "two senior [Trump] administration officials" that four top individuals in management positions at the State Department have been essentially told they are no longer needed.   It is all part of a "house cleaning" effort by the incoming administration.  One of the four is said to be longtime State Department career employee Patrick Kennedy, a man who became a sort of lightening rod because of his role in the Hillary Clinton email affair that plagued her candidacy.  He served in the powerful position of Undersecretary for Management during Clinton's term.
Back in October, Sen. Marco Rubio issued a harsh statement about Kennedy amid reports that he allegedly attempted "to influence the FBI to change" classification of documents found on Clinton's server, in what some suggested was evidence of a quid pro quo.
His involvement at the center of the email scandal and his alleged attempts to obtain a quid pro quo led some of his critics to refer to him as "Clinton's fixer."
Kennedy was also deposed by Judicial Watch as part of its lawsuit against the State Department regarding its response to FOIA requests.  Judicial Watch has alleged that Kennedy played a crucial role in the delayed FOIA responses, but he denied playing any significant role during his deposition.  In his position, Kennedy oversaw three of the four departments that had responsibility for ensuring State Department policies and procedures were followed.  Nonetheless, when it came time to answer questions, he testified that it never occurred to him that she might have a significant amount of State Department records in her possession until reading a March 2015 New York Times story about her private email server.
Judicial Watch president Tom Fitton told LawNewz Kennedy's "accountability may have been a long time coming, but it was sorely needed."  He also said that he hopes the new replacements make sure to take "steps to ensure records are secured" for the ongoing litigation his organization still has against the State Department.
"A new crop [of leaders was] sorely needed" around Foggy Bottom, he added.
Michele Bond and Joyce Anne Barr, both Assistant Secretaries for Administration and Consular Affairs and the director of the Office for Foreign Missions, Ambassador Gentry Smith, were the other three who reportedly received notice they were no longer needed in the new administration.
According to the report, the four individuals signed formal letters of resignation — as is customary when asked to leave by a new administration.
One senior State Department official wanted to make it clear that these people did not quit, telling the news outlet, "Any implication that that these four people quit is wrong.  These people are loyal to the secretary, the President and to the State Department. There is just not any attempt here to dis the President. People are not quitting and running away in disgust. This is the White House cleaning house."
However, another official told the outlet the State Department will not fall apart without Kennedy and the others.
"The department will not collapse," a second official told the network. "Everyone has good deputies . . . the department has excellent subordinates and the career people will step up. They will take up the responsibility."
Put more bluntly, a senior Republican aide formerly responsible for conducting oversight of the State Department, told LawNewz:
It's good to see the new administration cleaning house and providing the State Department with a fresh start. The lack of accountability at the most senior levels – particularly as it relates to the handling of Benghazi and the former Secretary of State's personal email system – shows the blatant disregard senior officials had for policies and procedures, many of which are in place to save lives. Accountability is essential at all levels of government and something that was seriously lacking in recent years.
Meanwhile, an acting State Department spokesman told CNN, "These positions are political appointments, and require the President to nominate and the Senate to confirm them in these roles. They are not career appointments but of limited term. "Of the officers whose resignations were accepted, some will continue in the Foreign Service in other positions, and others will retire by choice or because they have exceeded the time limits of their grade in service."
LawNewz also reached out to the State Department media office, but we also have not received a response.
We will update this post with any additional information as it becomes available.
Update:
Acting State Department Spokesman Mark Toner released the following statement to LawNewz:
"Patrick Kennedy will resign as Under Secretary for Management on January 27, and retire from the Department of State on January 31. A career Foreign Service Officer, Under Secretary Kennedy joined the Department in 1973."
[image via State Department]
Have a tip we should know? [email protected]