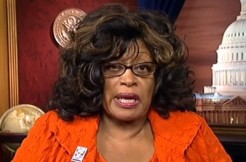 On Friday, the Justice Department indicted Congresswoman Corrine Brown (D-Florida) and her chief of staff Elias Simmons for their role in a fraudulent education charity. They have been charged with participating in a conspiracy to commit mail and wire fraud, multiple counts of mail and wire fraud, concealing material facts on required financial disclosure forms, theft of government property, obstruction of the due administration of the internal revenue laws, and filing false tax returns. The indictment includes a total of 24 counts.
"Congresswoman Brown and her chief of staff are alleged to have used the Congresswoman's official position to solicit over $800,000 in donations to a supposed charitable organization, only to use that organization as a personal slush fund," said Assistant Attorney General Leslie R. Caldwell in a Justice Department statement. "Corruption erodes the public's trust in our entire system of representative government. One of the department's most important responsibilities is to root out corruption at all levels of government and to bring wrongdoers to justice."
Brown and Simmons allegedly participated in the scam from late 2012 to early 2016. The indictment states Rep. Brown used her position to solicit funds for the "One Door for Education – Amy Anderson Scholarship Fund," telling donors the funds would go to scholarships, school equipment, etc. This was allegedly false. Also, donors were reportedly misled, and told "One Door was a properly-registered 501(c)(3) non-profit organization, when, in fact, it was not."
The defendants took those donations for personal use, authorities claim. Apparently, only two real scholarships, a total of $1,200, were handed out.
Also, Brown allegedly under-reported her income and lied about tax deductions between 2008 and 2014.
Brown and Simmons are scheduled to make a courtroom appearance at a federal court in Jacksonville, Florida on Friday, 1 p.m. EST. You can read the full indictment here.
The president of One Door, Carla Wiley, pleaded guilty to charges linked to the scam on March 3, 2016.
LawNewz.com tried to reach Brown's press secretary David Simon for comment, but he was unavailable. We will update if we get a response.
–
Follow Alberto Luperon on Twitter (@Alberto Luperon)
Have a tip we should know? [email protected]