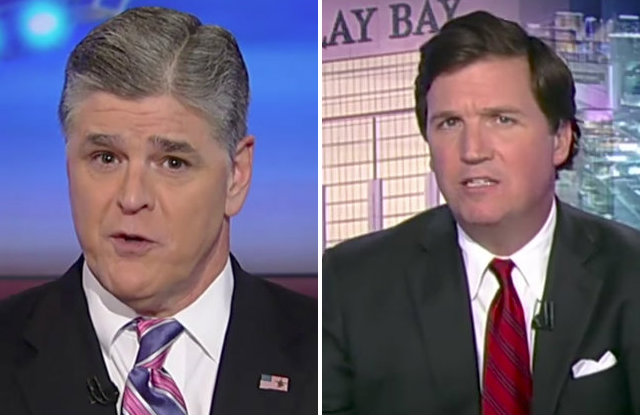 The United Kingdom's Office of Communications ruled Monday that Fox News hosts Sean Hannity and Tucker Carlson broke impartiality rules, according to The Guardian. It's a bit of blow to the Murdoch family, which owns the network and 39 percent of Sky. The moguls are trying to buy the 61 percent they don't already have, but that's under review by UK authorities. News about the ruling caused Sky shares to dip 14 points Monday morning, though it started to recover as of the afternoon.
The broadcaster already removed Fox from its British programming in August, citing low viewership. Ofcom reviewed the complaints anyway. According to the Guardian, regulators said this was "to ensure there is a complete compliance record and to facilitate public understanding of the code."
Carlson's show caught ire for a May 25 episode about the Manchester attack. It depicted viewpoints which were critical of British authorities' handling of terrorism, their approach to stopping extremism, and failure in protecting "thousands" of girls from being raped and abused.
Ofcom said Carlson didn't show the point-of-view of anyone being criticized and "did not challenge the views of his contributors; instead, he reinforced their views."
They also reviewed a complaint about Hannity's pro-travel ban coverage from January 31. He spent little time acknowledging the other side of the debate, and instead talked with supporters of the policy and President Donald Trump.
"Ofcom acknowledged that viewers were likely to expect Hannity to address controversial issues from a perspective that is generally more supportive of the US Republican party," regulators said. "However, the likely audience expectations did not provide sufficient contextual justification to outweigh the numerous highly critical statements made about people who had opposed the order, coupled with the clear support being expressed for the policies of President Trump."
Both shows violated the same three rules on representation of alternative views, impartiality, and inclusion of significant views, said Ofcom.
Law Newz reached out to a 21st Century Fox spokesperson for comment.
[Screengrabs of Hannity and Carlson via Fox News]
Have a tip we should know? [email protected]