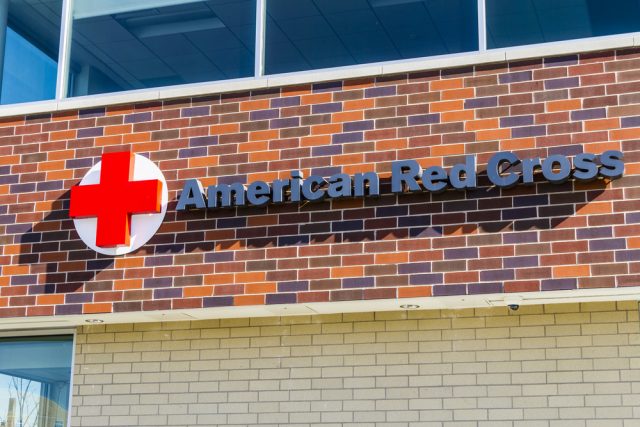 A former Red Cross executive was forced to resign over sexual harassment and rape allegations in 2013, immediately before the organization gave him sterling recommendations to another charity, Save the Children, a new report says.
An extensive report on the alleged cover-up and shuffling over of Gerald "Jerry" Anderson from one high-powered charity position to another was published Thursday by ProPublica, a non-profit news organization dedicated to public interest journalism.
In 2012, two young women–Eliza Paul and Camille Herland–came forward to report the allegations of rape and sexual harassment.
According to Paul, an early evening of consensual drinking with other Red Cross employees in December 2010 ended in a night of non-consensual sex. Paul allegedly woke up naked the next morning, in a strange bed, with Anderson on top of her. She described her first memory of that day:
I saw he didn't have a condom, and all I could think to say was, "No, you don't have a condom." He stopped and he laughed and he said, "It didn't bother you last night."
Paul then inquired as to whether the two had sex. Anderson allegedly said yes, then gave Paul a ride home where she showered and dressed. The next day, Paul had a rape kit done. The results were consistent with sexual intercourse but couldn't say much about consent.
Paul believes she was drugged that night but didn't go to the police, who according to hospital staff were the only ones who could test for date-rape drugs. Paul told the nurse who administered the rape kit, "I never found this guy attractive, I never flirted with him or considered engaging physically with him, and then the next thing I remember it was early morning, I was in bed."
Herland's story begins similarly. Instead of a bar, however, the drinking occurred at a wedding in August 2010. Many of the guests were fellow Red Cross employees. Anderson was Herland's direct supervisor at the time, though she had just accepted a promotion. At some point in the night, Anderson allegedly got the idea to bare his love to Herland and take credit for her success.
Herland described the triggering incident to ProPublica. She said:
He had been drinking. At some point during the dancing, he came and forcibly cut into the dance and backed me into a corner, and told me he had feelings for me. He took credit for having gotten me this new job, and said it was so we could be together. He was very insistent that I needed to go to his hotel room with him so we could talk about our relationship in private.
Herland refused the offer. Anderson allegedly began to cry. The evening was over, but that one bad night allegedly led to weeks worth of harassing and accusatory texts and emails sent by Anderson to Herland. The messages allegedly vacillated between Anderson pleading his love for Herland to suggesting she was sleeping with other men; allegedly inquiring about details and repeatedly trying to get Herland to come to his apartment.
Eventually, the messages stopped. Then, roughly one year after the night of the wedding, Anderson sent Herland a fully paid subscription to the Smithsonian. Herland's reaction was less than favorable:
That was very upsetting to me because I didn't remember having given him my address. I said "I can't have you buying me expensive gifts," and he said he thought this was an activity we could do together.
Fearing for her career, Herland didn't immediately report Anderson's behavior. One day, though, Herland was talking to her friend Eliza Paul. Paul described her experience with Anderson without naming him–referring instead to an office "bad guy." Herland stopped her friend and guessed the man's identity. It was Anderson.
Prompted by a question as to whether another female friend of Paul's should take a job working under Anderson at the Red Cross–and Paul's response–questions finally started being asked at the Red Cross. Then, a year and a half later, Paul and Herland agreed to tell their stories.
An independent inquiry was performed on behalf of the Red Cross by attorney Jeffrey Larroca, who works with the firm Eckert Seamans. Paul's claim was more or less dismissed–investigators declined to look at the rape kit evidence–but she was thanked for her contribution. Herland's claim was given merit. Anderson was eventually forced to resign.
The Red Cross's official departure announcement for Anderson mentioned none of the details surrounding his departure. Instead, in an email sent by David Meltzer, who was then senior vice president for international services, Anderson was praised for his "leadership" and thanked for his "two decades of dedication and hard work in furthering the international mission of ARC." Meltzer also said he was "grateful" to Anderson and wished him well in his "future endeavors."
At a staff meeting a few days later, Meltzer said he was upset that Anderson was leaving and that if it were up to him he would continue working for the Red Cross.
Former Red Cross official Amy Gaver said, "It was flabbergasting. If you are a woman sitting in this room, and you have ever been harassed by Jerry Anderson, you've just heard from the VP that he does not believe you or support you."
Since Anderson's history of alleged sexual misconduct has been brought to light, the Red Cross has issued various statements acknowledging said history.
One such statement reads, "The American Red Cross has zero tolerance for sexual harassment and has policies in place to enforce that, as evidenced by the corrective actions we took resulting in the resignation of Jerry Anderson more than 5 years ago."
When presented with their lack of transparency regarding Anderson's move from the Red Cross to Save the Children, another statement admitted, "laudatory language used in association with Mr. Anderson's departure was inappropriate and regrettable, given the circumstances."
Anderson's attorney declined to answer specific questions from ProPublica, instead opting to release a terse statement which reads, "Mr. Anderson has not engaged in any sexual misconduct."
Save the Children was only made aware of the rape and sexual harassment allegations against their current associate vice president when recently approached by ProPublica, and have since placed Anderson on administrative leave.
Eight days after Meltzer sent the email praising Anderson's decades of service with the Red Cross, he was promoted to general counsel, a position in which he currently serves. As general counsel, Meltzer oversees how the Red Cross handles allegations of misconduct and supervises the organization's Office of Investigations, Compliance & Ethics.
[image via Jonathan Weiss/shutterstock.com]
Follow Colin Kalmbacher on Twitter: @colinkalmbacher
Have a tip we should know? [email protected]