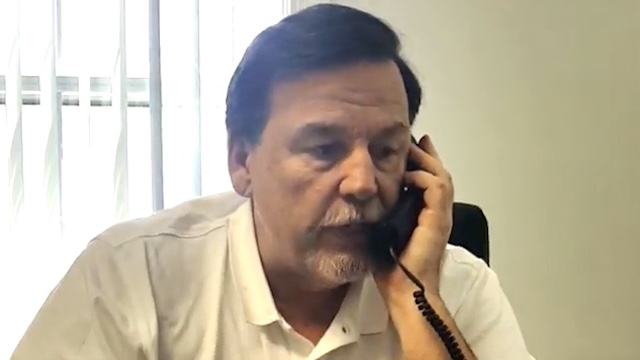 A New Hampshire jury has awarded a record-breaking $274 million verdict – which attorneys say is at least ten times greater than the previous state record for a personal injury claim – against a radio talk show host and businessman who accused three other businessmen of dealing "heroin" and "machine guns" in a warehouse. Those allegations came through a series of politically-charged billboards, online broadcasts, radio shows, and Web postings.
The lawsuit was filed by Dick Anagnost, who runs his own investment company; Andrew Crews, the CEO of a series of car dealerships; and William Greiner, a bank chairman.
The lawsuit accused talk show host Michael Gill and political operative Aaron Day of defamation.
Gill, the talk show host, used billboards both to advertise his business, Mortgage Specialists, and to carry defamatory messages against the plaintiffs, sometimes using vulgar language, the lawsuit alleged. Gill operated a well-visited Web site called "State of Corruption" and hosted a show called "SOC Radio," both of which carried similar content to the billboards. The radio show appeared both online and on a local news/talk radio station in New Hampshire, the plaintiff's attorneys tell LawNewz.com.
Over a series of broadcasts, Gill allegedly ranted about several of the plaintiffs. According to court documents, one of the broadcasts went this way:
"Now I told you, and I've been telling you, the heroin dealers are in this state are Anagnost and Crews. Now who are these people? Well a couple of the wealthiest men in our state. That's how they got wealthy, ok. They have a warehouse. I brought this up. We had witnesses, distributing and unloading drugs and machine guns from trucks."
In another broadcast, Gill even told listeners the original lack of a defamation suit against him was proof that the plaintiffs were, indeed, drug dealers, court documents revealed:
"I accused Anagnost and Crews, and Greiner by the way, of being drug dealers . . . They're fine citizens, you know, Anagnost and Crews, right. You didn't hear Anagnost and Crews one time saying they weren't drug dealers now did you? Because I didn't hear that. In fact, if you go on to read it, they both say they don't want to sue me. Really. I'd sue you. And you'd sue me back, wouldn't you. But why aren't they. Because it is the truth, and you know it's the truth."
The original lawsuit also said Gill accused one of the three plaintiffs of extortion.
Ironically, several of the plaintiffs and their families have helped finance and manage a nonprofit drug and alcohol addiction recovery center. (New Hampshire has been hit hard by the nation's opioid and heroin crises.) The lawsuit also argued several of the defamatory broadcasts also linked in the plaintiffs' philanthropic activities, including this one:
"Dick Anagnost, that's right, I name names. And Crews. They are your heroin dealers in this state. Been for twenty years. They own the treatment center. Hope Treatment Center. So they're selling you drugs, killing your children and the ones who don't die, you own the treatment center . . . They are not only going to have the heroin business, they're going to have the pot business."
Another went as follows:
"Anagnost, Crews are selling heroin. Did you just hear that? They have a warehouse that we've had witnesses in with the distribution of this heroin. There's no question about that. Who are the people who own . . . New Hope Treatment Center. It's Anagnost and Crews . . . I told you about Anagnost and Crews. Heroin. Drug dealers that own these treatment centers."
The actual name of the treatment center, the plaintiff's court filings say, is "Hope for NH Recovery."
Aaron Day, the one-time leader of the state's Republican Liberty Caucus, was also sued in his individual capacity, but previously settled for slightly more than $1 million, sources tell LawNewz.com. Day resigned both his state and national posts with the caucus in early 2016, the group reports. The original lawsuit was filed April 15, 2016.
The jury deliberated for half a day Thursday and for a few hours Friday before returning the verdict. Attorneys for the plaintiffs believe the previous record award for a lawsuit in New Hampshire was a $21 million award.
The plaintiffs were represented by Shaheen & Gordon, P.A.
[Image of Michael Gill via screen capture from YouTube.]
This post has been updated.
Have a tip we should know? [email protected]
Aaron Keller - Deputy Editor-in-Chief