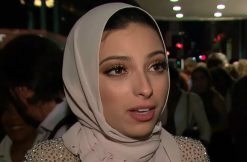 Noor Tagouri and Noor Salman are completely different women, with different faces, different last names, and a decidedly different history when it comes federal charges. Sadly, the online outlet Raw Story still mixed them up yesterday.
The FBI arrested Salman for allegedly aiding and abetting her husband Omar Mateen in connection to a June 12 mass shooting at the Pulse nightclub in Orlando, Florida. It's the most devastating mass shooting in American history, with 49 dead and 53 wounded. Raw Story, an outlet with a staunchly liberal reputation, wrote about that news like a lot of the media. According to their article's time-stamp, they got it up at 12:19 p.m. Eastern Time. Problem was, the picture they used wasn't of Salman. It was of Tagouri, a Newsy journalist who has absolutely nothing to do with the case. She was not pleased.
Hi @RawStory, I am NOT Omar Mateen's wife. Plz acknowledge/correct the errors. PS: same photo you used before…lazy pic.twitter.com/2xtdcgNNgk

— Noor Tagouri (@NTagouri) January 16, 2017
.@RawStory also, the woman who was arrested doesn't even wear hijab….so there's that -_-

— Noor Tagouri (@NTagouri) January 17, 2017
For the sake of comparison, here's a picture of Salman with Mateen.
Orlando Nightclub Gunman's Wife Faces Charges Tied to Attack https://t.co/6S9uDfVnuu pic.twitter.com/QoxSEvYjo1

— LawNewz (@law_newz) January 17, 2017
Tagouri also said late Monday that the outlet was slow in fixing the mistake, and apologizing.
— Noor Tagouri (@NTagouri) January 17, 2017
Still no word from @RawStory…pic still comes up in google cache version of story. Not ok. https://t.co/MzvH1xClkm pic.twitter.com/JWBI8IEfRF

— Noor Tagouri (@NTagouri) January 17, 2017
Raw Story has fixed the mistake and apologized, as of Tuesday morning.
"A previous version of this story erroneously featured a photo of activist Noor Tagouri," their correction states. "Raw Story deeply regrets the error." The article now features a picture of Mateen.
We reached out to them to learn more.
[Screengrab via Tagouri's YouTube page]
Have a tip we should know? [email protected]