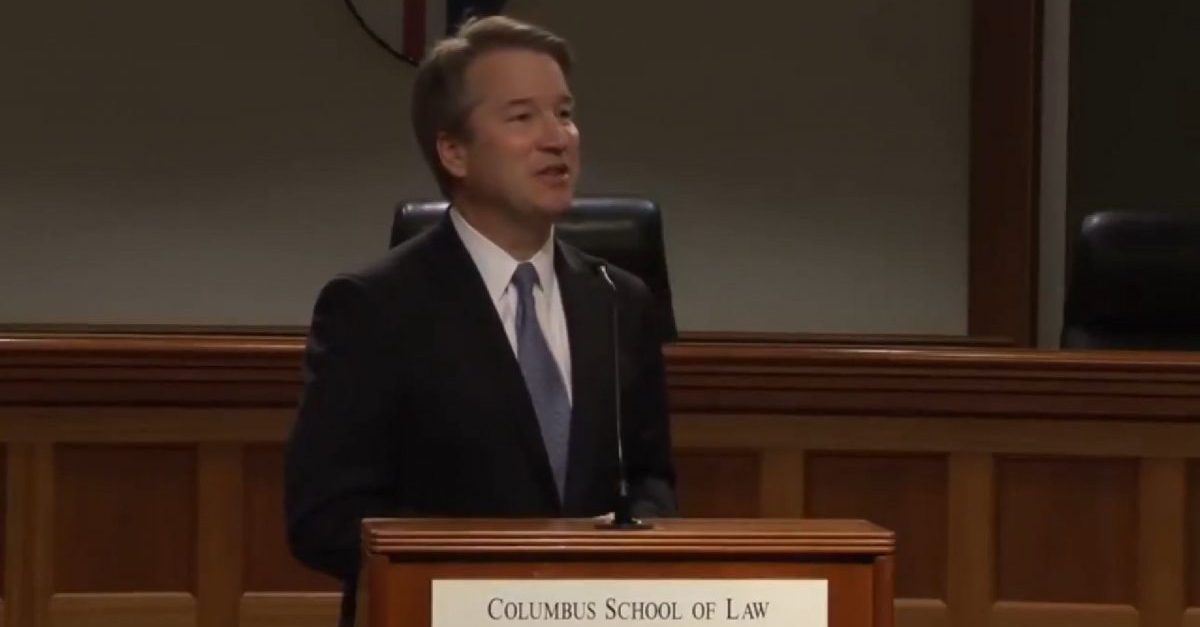 In March 2015, Brett Kavanaugh gave a speech at Catholic University Law School, during which he recalled his high school days at Georgetown Prep. Those days are now being scrutinized due to allegations that Kavanaugh tried to rape Christine Ford during that time period. In his speech, Kavanaugh made a joke alluding to misbehavior as a high school student, which ended up being cut out of the version published by the Catholic Law Review. That version was included in the Supreme Court nominee's "published works" that were turned over to the Senate Judiciary Committee.
As seen in video shared by Jonathan Larsen of The Young Turks Investigates, Kavanaugh spoke briefly about mottos.
"Our motto at Georgetown Prep was 'to be men for others," it was an all boys school; to be men for others," Kavanaugh said. "And I know this school helps teach its students to be lawyers for others to serve the public and to serve others who are in need." He then went on to discuss teachers and coaches he had, and sayings of theirs that he recalled. Then there was the following:
I, by coincidence, three classmates of mine at Georgetown Prep were graduates of this law school in 1990 and are really, really good friends of mine: Mike Bidwill, Don Urgo, and Phil Merkle. And they were good friends of mine then and are still good friends of mine as recently as this weekend, when we were all on email together. But fortunately we had a good saying that we've held firm to to this day, as the dean was reminding me before the talk, which is, "What happens at Georgetown Prep stays at Georgetown Prep." That's been a good thing for all of us, I think.
Longer version of 2015 Brett Kavanaugh video, with the entire section on Georgetown Prep, from its moral code to "What happens at Georgetown Prep,.." including the names of 3 classmates who shared that code. pic.twitter.com/8WD5bNzG98

— Jonathan Larsen (@jtlarsen) September 18, 2018
The line got a laugh from the crowd, but it didn't make the version that was published in the Spring 2016 Catholic Law Review, which says:
Georgetown Prep's motto was to be "men for others." I have tried to live that creed. I am proud to say that three
Georgetown Prep classmates of mine–Mike Bidwill, Don Urgo, and Phil Merkle– happen to be 1990 graduates of this
law school. They remain very good friends of mine, and they well reflect the values and excellence of both Georgetown
Prep and this law school.
The published version bears a footnote saying that it was a speech Kavanaugh gave at the school on March 30, 2015. It also opens with Kavanaugh's opening remarks, "Thank you, Dean Attridge, for that generous introduction." Yet for some reason, the above chunk of the speech was edited out. This could be for any number of reasons. Articles that are published in law reviews go through a rigorous editing process, generally done by law students, not the author of the piece. It's unknown whether Kavanaugh himself wrote the transcript and left out his joke when he provided it to the Law Review, or if the editorial staff removed it. It may have been taken out for space, or because an editor felt it distracted from the main idea of the article, which was titled, "The Judge as Umpire: Ten Principles."
The Young Turks reported that they contacted the school for more information, and they referred them to the Law Review's website, which simply says:
Now in its 67th year of publication, the Law Review is a student-run scholarly journal that examines problems of current legal concern. The Law Review publishes articles submitted by legal scholars and practitioners on a quarterly basis.
Law&Crime also reached out to the school for more information, but they did not respond by the time of this publication.
While the reason for this omission may in reality have nothing to do with Kavanaugh, it is consistent with his current habit of distancing himself from any misbehavior he may have engaged in while he was in high school. Note this evasive response when Senator John Kennedy (R-Louisiana) asked him, "Did you ever get in trouble?"
Kavanaugh first avoided the question altogether, talking about sports and his friends. Then when Kennedy pressed him on it, saying, "You left out the trouble part," Kavanaugh said with a laugh, "Right, so that's encompassed under the friends, I think."
With the current allegations, however, Kavanaugh appears prepared to address his time in high school in greater detail. The Supreme Court nominee has stated that he would testify under oath in front of the Senate Judiciary Committee regarding the allegations against him.
[Image via screengrab]
Have a tip we should know? [email protected]