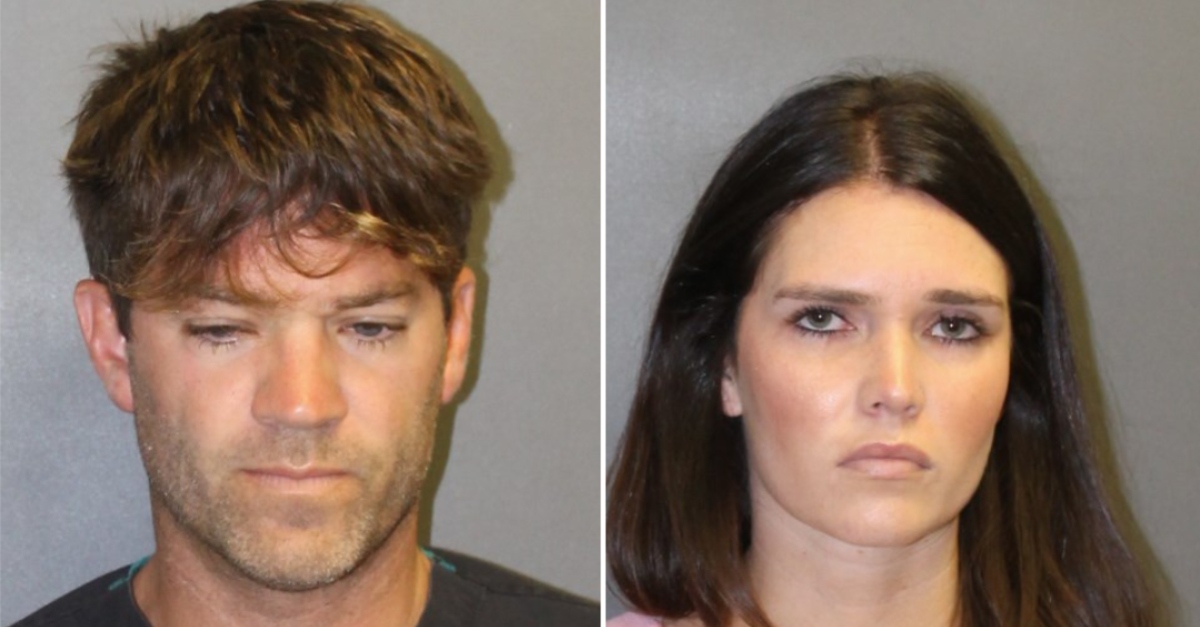 A "clean-cut, good-looking" doctor and his girlfriend have been arrested for allegedly drugging and raping two women. More charges might be pending for orthopedist Grant William Robicheaux and Cerissa Laura Riley, 31, after videos showed intoxicated women well past the point of being able to consent to their advances, said Orange County, California District Attorney Tony Rackauckas at a press conference Tuesday.
The prosecutor declined to number how many more potential victims there might be. Nonetheless, he did explain there were at least hundreds of different videos in Robicheaux's possession depicting the women, a number of the footage depicting Riley. Asked if there were more than a thousand videos, Rackauckas said, "I think so."
In an interview with The Los Angeles Times, the D.A. said he couldn't number how many videos there were.
"There are a substantial number of videos," he said. "I cannot tell you if it is tens or hundreds, it is certainly more than tens. It appears [the women] are highly intoxicated beyond the ability to consent or resist. They are barely responsive to the defendants' sexual advances."
Robicheuax, a doctor who appeared on the reality show Online Dating Rituals of the American Male, and Riley, his girlfriend, have been charged with rape by use of drugs, oral copulation by anesthesia or controlled substance, assault with intent to commit sexual offense, and possession of a controlled substance for sale. He also faces two counts of being personally armed with a firearm during a health and safety code violation. She is being charged with being knowingly vicariously armed with a firearm.
For now, they are just being charged with raping two women in 2016, though three more have stepped forward, according to law enforcement sources in a Los Angeles Times article published Wednesday.
According to the D.A. on Tuesday, the couple's M.O. is that Riley would approach a woman in a bar, introduce her to Robincheaux, and invite the victim to a party. Then the woman would be plied with alcohol and find herself more inebriated than expected. Rackauckas said the victims were unable to consent to what was happening.
"The women who encountered these two might have felt a false sense of security due to the fact that both defendants are clean-cut, good looking," Rackauckas said.
The statement from the Orange County D.A. said that "large quantities of illegal drugs" were found in Robincheaux's residence last January 9. The doctor was also accused of possessing two illegal and unregistered assault rifles, four other firearms, and large capacity magazines. The drugs included ecstasy, date rape drugs, and cocaine, Rackauckas said. There's no evidence of the videos being posted or any of the allegations happening at a medical setting he said.
The defendants were arrested last Wednesday and posted bond. An arraignment is scheduled for October 24.
Robincheaux and Riley denied the allegations through lawyers.
"They have been aware of these accusations for a number of months and each of them will formally deny the truth of these allegations at their first opportunity in court," attorneys Philip Cohen and Scott Borthwick said in a joint statement. "Dr. Robicheaux and Ms. Riley believe that such allegations do a disservice to, and dangerously undermine, the true victims of sexual assault, and they are eager to have the proper spotlight shed on this case in a public trial."
[Mugshots via the Office of the Orange County District Attorney.]
Have a tip we should know? [email protected]