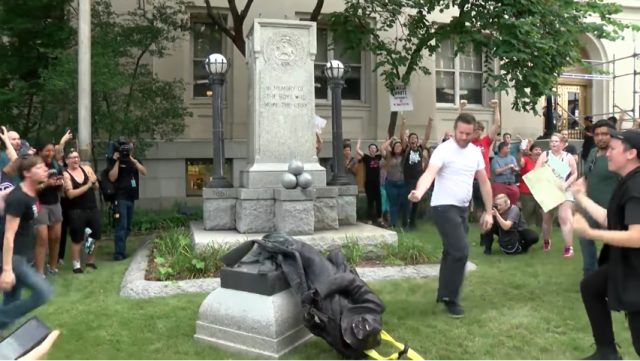 Protesters accused of extra-legally removing a Confederate statute from atop a pedestal in downtown Durham, North Carolina are likely to avoid felony charges, according to their defense attorney.
In mid-August, a small, poorly-made and mass-produced statue of an anonymous Confederate soldier was enjoying the last moments of its 93-plus years on earth. The statue's forward facing inscription:
IN MEMORY OF
"THE BOYS WHO
WORE THE GRAY"
Soon enough, during an anti-racism protest inspired by the death of Democratic Socialist Heather Heyer, that statue was lassoed with yellow rope by a group of anti-fascists, socialists and others while the crowd chanted, "No Trump; No KKK; No fascist USA."
As bodies piled up to pull on the rope, the statue quickly and easily came down. That was August 14, 2017.
Soon after that, local law enforcement quickly cracked down on the alleged topplers. Durham police performed a series of raids and arrests targeting multiple activists involved with the statue's removal.
One of those arrested was 22-year-old Takiyah Thompson. Admittedly the person who tied the yellow rope around the old statue in the first place, Thompson was brought up on myriad charges-–including two felony counts of participating in a riot and inciting others to riot.
An additional 11 people were charged with felonies over the toppling of that bronze statue once proudly situated atop its granite tower.
Law enforcement's response was widely ridiculed and opposed by activists in Durham and across the country. Many such activists took it upon themselves to show up at the Durham County Sheriff's Office demanding to be arrested, while others attempted to jam up the department's phone lines.
Now, however, an attorney with Defend Durham–a group supporting the accused activists–says those felony charges are about to be dropped against everyone charged over the statue's removal.
Durham County District Attorney Roger Echols recently dropped felony charges against three of the charged individuals, citing lack of evidence. And today, defense attorney Scott Holmes said the state plans to drop the extant felony charges pending against the nine others still charged.
According to The Herald-Sun, Durham's local daily, Holmes initially made those comments about the looming dropping of charges in a court appearance this morning for seven of the nine individuals. Their cases were ultimately moved to December 5.
For his part, District Attorney Echols refused to confirm or deny Holmes' statement, saying:
Unfortunately or fortunately I cannot talk about what our conversations have been or even what our negotiations have been. That would even include confirming whatever [Holmes] said or denying it's accuracy. Of course I don't know what has been said or not said in court by those prosecutors representing the state.
In later reports, Echols said that Holmes' comments were premature–noting that seven individuals remained charged but that he couldn't really discuss any details of their cases.
[image via screengrab]
Follow Colin Kalmbacher on Twitter: @colinkalmbacher
Have a tip we should know? [email protected]