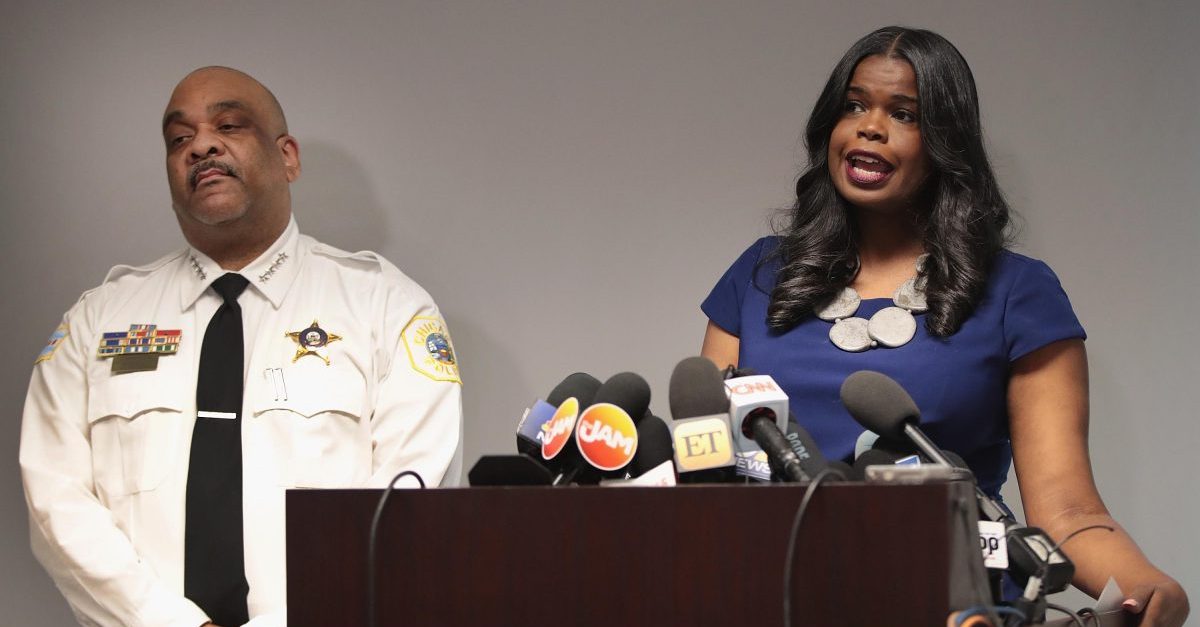 The decision from Cook County, Illinois prosecutors to drop charges against Jussie Smollett continues to confuse people who followed the case. The latest question surrounds the top prosecutor, Cook County State's Attorney Kim Foxx, who—based on her own past statements—perhaps shouldn't have had her office involved in the matter at all.
Back in February, Foxx's office said that she was recusing herself from the case to avoid a possible conflict of interest.
"Out of an abundance of caution, the decision to recuse herself was made to address potential questions of impartiality based upon familiarity with potential witnesses in the case," a spokesperson said.
Despite this, however, Foxx's office continued to handle the case, even though a state law says that in the case of a recusal, a special prosecutor must be appointed by the court. The relevant statute states:
[T]he State's Attorney may file a petition to recuse himself or herself from a cause or proceeding for any other reason he or she deems appropriate and the court shall appoint a special prosecutor as provided in this Section.
Instead, Foxx simply handed it off to her own first assistant, Joseph Magats.
Police started asking questions about this on Tuesday, the same day that messages between Foxx and Smollett's former lawyer Tina Tchen were revealed. The messages between Foxx and Tchen, former chief of staff for Michelle Obama, were about the handling of the Smollett case.
Foxx's office eventually acknowledged that Foxx never truly recused herself from the case. A spokesperson for the office said in a statement published by Patch that Foxx "did not formally recuse herself or the [State's Attorney] Office based on any actual conflict of interest. As a result, she did not have to seek the appointment of a special prosecutor." The spokesperson explained the February announcement of a recusal by saying, "it was a colloquial use of the term rather than in its legal sense."
Because of this, Foxx did not violate state law by giving the case to Magats. The office spokesperson said that Magats did not tell Foxx in advance about the decision to drop Smollett's case. Foxx stands by it, though, claiming nothing out of the ordinary went on. She said in a statement:
This is not a new or unusual practice. …  The charges were dropped in return for Mr. Smollett's agreement to do community service and forfeit his $10,000 bond to the City of Chicago. Without the completion of these terms, the charges would not have been dropped. This outcome was met under the same criteria that would occur for and is available to any defendant with similar circumstances.
Despite this, the notion of dismissing multiple felony counts soon after an indictment didn't sit well with everyone.
Law & Crime Network host Bob Bianchi called the case's resolution a "disgrace." Chicago Mayor Rahm Emanuel went even further, saying, "From top to bottom, this is not on the level."
The statement from Foxx about the charges being dropped on condition of the acceptance of terms including community service appeared to contradict Smollett's current attorney's version of what happened. Patricia Brown Holmes said on Tuesday that there was no deal, simply a dismissal of the case.
[Image via Scott Olson/Getty Images]
Have a tip we should know? [email protected]