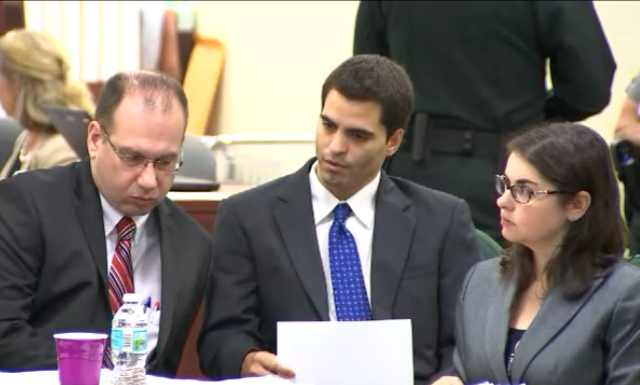 The trial of a Florida man accused of killing four people is underway in Florida.
Prosecutors say Adam Matos killed the mother of his child, her parents, and a man who reportedly had a new romantic interest in her.  The victims were Megan Brown, her parents Greg and Margaret Brown, and Nick Leonard.
During opening statements this morning, Assistant State Attorney Bryan Sarabia immediately told jurors that Matos had attacked with a knife and threatened to kill Megan Brown during a domestic dispute during the early morning hours of August 28, 2014. (Brown had just come home after a night out with a co-worker.) Matos took off when his son awoke, Brown reported to the authorities. Later, Nick Leonard also reported the incident.
Later that day, Sarabia alleged, Matos came back home and committed the murders.
Margaret died in her work uniform, Sarabia said. Officers found her blood in the garage, in the family's van (which she drove home). Authorities believe she was beaten in the head. Ultimately, they say, Matos zip-tied her hands, put a plastic bag around her head, and duct taped it shut. Then, they say, he hit her in the head with a hammer.
Sarabia told jurors that Nick Leonard died in Megan Brown's bedroom. Leonard's head was bashed in, his forehead was bashed in; and pieced of Leonard's skull were missing, Sarabia said. Sarabia said the injuries were circular and consistent with strikes from a hammer.
Greg Brown was shot twice in the back in the master bedroom, Sarabia said.
The home was filled with blood from the victims, he said.
Megan Brown died from a gunshot wound through her left eye. The bullet passed through her skull and lodged in her head, Sarabia said.
Sarabia says witness who were walking by heard at least one gunshot.  A couple of minutes later, the witness heard two more gunshots.
At around 12:31 a.m. on August 29, a neighbor who was expecting family reported that right after his family arrived, Matos came out of the Brown home and was wet. Matos struck up a conversation with those neighbors, they said. Nick Leonard's blue pickup truck is parked in the area. The truck remained in the area and was ultimately towed away, Sarabia said.
Throughout the day of August 29, Matos began selling Brown family animals for $50 each and some of the Brown family's belongings on Craigslist, Sarabia said. (The dogs were purebred and the price was ridiculously low, prosecutors have pointed out in the past.) Matos didn't let two people who were interested in the television he posted for sale into the home.
Matos later ordered a pizza. He eventually went to Walmart and bought a shovel, the prosecutor said, where he used Margaret Brown's credit card.
Neighbors reported that the crime scene area started to smell bad, Sarabia told the jury. Matos asked one neighbor if there were surveillance cameras in the area. One neighbor mentioned to Matos that it smelled like something was dead. Matos just started at him, Sarabia said.
Matos told the neighbor the Browns went to West Virginia on vacation and took a taxi to the airport.
Matos continued to use Margaret Brown's credit card to make purchases, Sarabia said.
On September 4th, a deputy discovered the bodies on a berm down the road, Sarabia said. Investigators said there was evidence of "substantial cleanup" in the house and that the cleanup would have taken hours, he added.
The authorities recovered bullets and bloody items from the Brown home. In a canal behind the house, they recovered two long rifles, crossbows, bullets, a .280 Kel-Tec gun, and a hammer.
Authorities believe Matos eventually took his son, canoed away from the scene, and then took a taxi away from the area. Police caught up with them at a hotel. There, Matos was placed under arrest.
Matos later told several people, including reporters from a local newspaper, that he was last in the Brown home on August 28.
Prosecutors say it's clear from the evidence that Matos killed the Browns and Leonard, sold their stuff, cleaned up some of the scene, and then tried to flee to avoid detection.
Defense attorneys chose not to make opening statements at the start of the trial.
Have a tip we should know? [email protected]
Aaron Keller - On Air Host