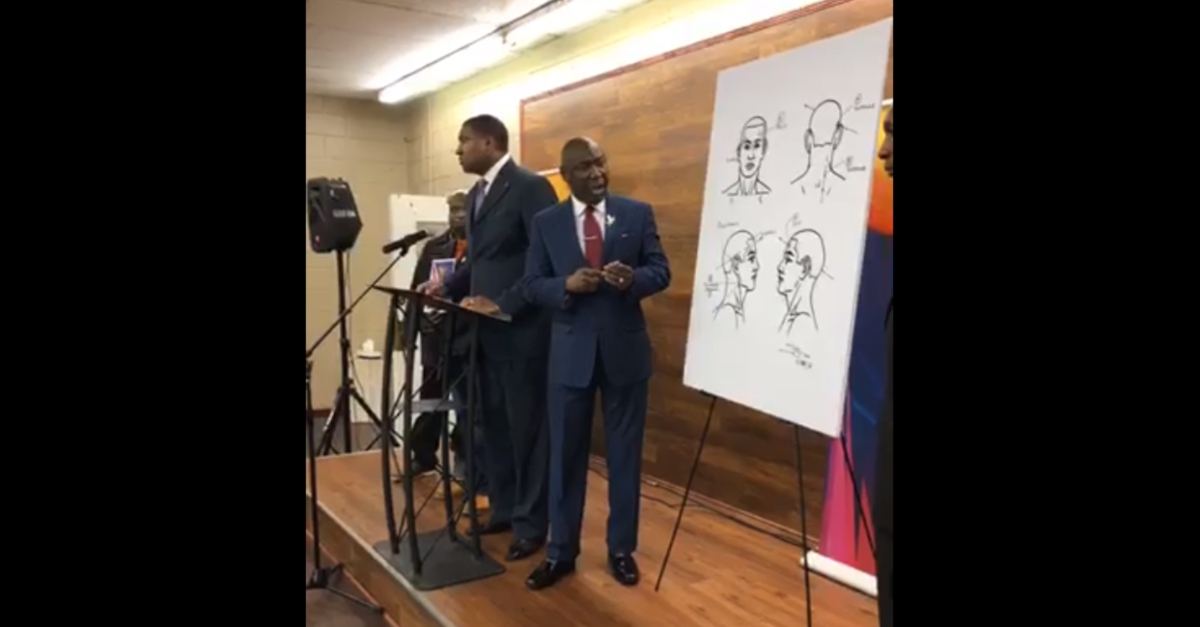 Police shot 21-year-old Emantic "E.J." Fitzgerald Bradford three times from the back, according to the results of a private autopsy announced by his family's lawyers.
Crump says autopsy shows gunshot to Bradford's back of right side of head, right side of neck and right side of back at the hip pic.twitter.com/LMZLM39kq2

— Alan Collins (@fox6alancollins) December 3, 2018
This comes over a week after cops walked back their initial claim that the victim opened fire at a mall in Hoover, Alabama on Nov. 22. Investigators said Bradford shot and injured an 18-year-old man and a 12-year-old girl. That wasn't true. Police later changed their story, and said there was a mistake. Bradford, who was at the scene and armed, probably did not hurt anyone, they said.
"New evidence now suggests that while Mr. Bradford may have been involved in some aspect of the altercation, he likely did not fire the rounds that injured the 18-year-old victim," cops said in their update.
On Monday, attorney Ben Crump told reporters that bullets hit Bradford in the back, neck, and head.
Crump "all of thes shots are kill shots. We thought he was shot in face" that was wrong because face landed in pool of blood. pic.twitter.com/cuZ9q9XzBW

— Alan Collins (@fox6alancollins) December 3, 2018
Crump said Bradford did not have a criminal record, and added that he was honorably discharged from the Army.
Cops won't detail their narrative as to what happened. They passed the investigation to the Jefferson County Sheriff's Office, who in turn gave it to the Alabama Law Enforcement Agency. On Monday, Hoover police chief Nick Derzis said the ALEA Secretary of Law Enforcement Hal Taylor asked that they not release evidence from the shooting. That includes video and audio of the incident.
"He has specifically asked that we do not release any potential evidence as it may not only jeopardize the integrity of the case, but also complicate or delay their efforts," Derzis said in a statement obtained by Law&Crime.
Anthony Thomas Bradford Uncle "I'm here to tell you, you coward. You shot my nephew in the back. Heads have got to roll from the top to the bottom" pic.twitter.com/g4IR3Zk8XG

— Alan Collins (@fox6alancollins) December 3, 2018
Authorities arrested Erron Brown, 20, and claimed he was the real shooter. The 18-year-old was described as Bradford's friend. The 12-year-old girl was a bystander.
Note: After the press conference, Hoover city officials recommended that the private autopsy results be submitted to the ALEA so it could become part of the investigation.
"We couldn't agree more with Attorney Crump's call for a thorough and complete investigation and for witnesses to come forward to assist in the search for the truth," according to a statement obtained by Law&Crime. "We also agree with his call to refrain from speculation until the investigation is completed. Our sympathies are with the Bradford family as they, the community, and the City of Hoover, await ALEA's complete investigation."
[Screengrab via AL.com]
Have a tip we should know? [email protected]