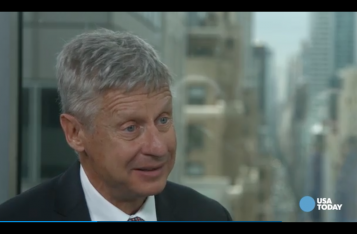 Libertarian presidential candidate Gary Johnson, a longtime advocate of legalizing marijuana, reaffirmed on Thursday that he will no longer use marijuana during his run for the White House. A few weeks ago, Johnson said he would not use marijuana while serving as president and also announced that he had stopped using the drug on the campaign trail.
In an interview with USA Today, Johnson said that he stopped "using marijuana of any kind" because he wants to be "the best he can be."
When asked by the paper how long it had been since he used, Johnson replied, "It's been about seven weeks."
He added that he would not use marijuana as president because, "I want to be completely on top of my game, all cylinders."
Back in March, Johnson was apparently still using as he told the Daily Caller that he had last used marijuana in the past couple weeks.
"But it wasn't smoking it; it was edibles," Johnson told the Daily Caller. According to the online news outlet, he specified that he had eaten a 20 mg Cheeba Chew, a THC infused taffy.
Have a tip we should know? [email protected]