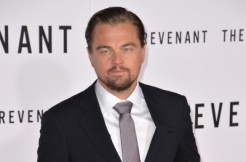 On Thursday, a New York magistrate ruled that Leonard DiCaprio must testify as part of a deposition linked to his film, The Wolf of Wall Street, according to a report from The Hollywood Reporter.
Plaintiff Andrew Greene sued film companies in February 2014, claiming filmmakers based a character on him: Nicky "Rugrat" Koskoff. In this apparently unsympathetic portrayal, "Rugrat" "was a criminal, drug user, degenerate, depraved, and/or devoid of any morality or ethics," according to the complaint, obtained by THR. Defendants are Paramount Pictures, Red Granite Pictures, Appian Way Productions (which DiCaprio founded), and Sikelia Productions.
Defense lawyers tried to keep DiCaprio out of the deposition. They told Judge Locke this move had the "earmarks of the intentional infliction of burden" since DiCaprio didn't write the script, or play the "Rugrat" role, according to THR. They claimed Green's lawyers sought to "to coerce an outcome that is not based upon the merits of the case." Screenwriter Terence Winter, and Director Martin Scorsese have already testified.
A New York federal judge all but dismissed Green's lawsuit in October, 2015, but gave him the chance to amend it.
Green, 53, served on the board of directors for brokerage house Stratton Oakmont in the 1990s, amidst a company-ending fraud scandal. He was not charged with breaking any laws.
–
Follow Alberto Luperon on Twitter (@Alberto Luperon)
Have a tip we should know? [email protected]