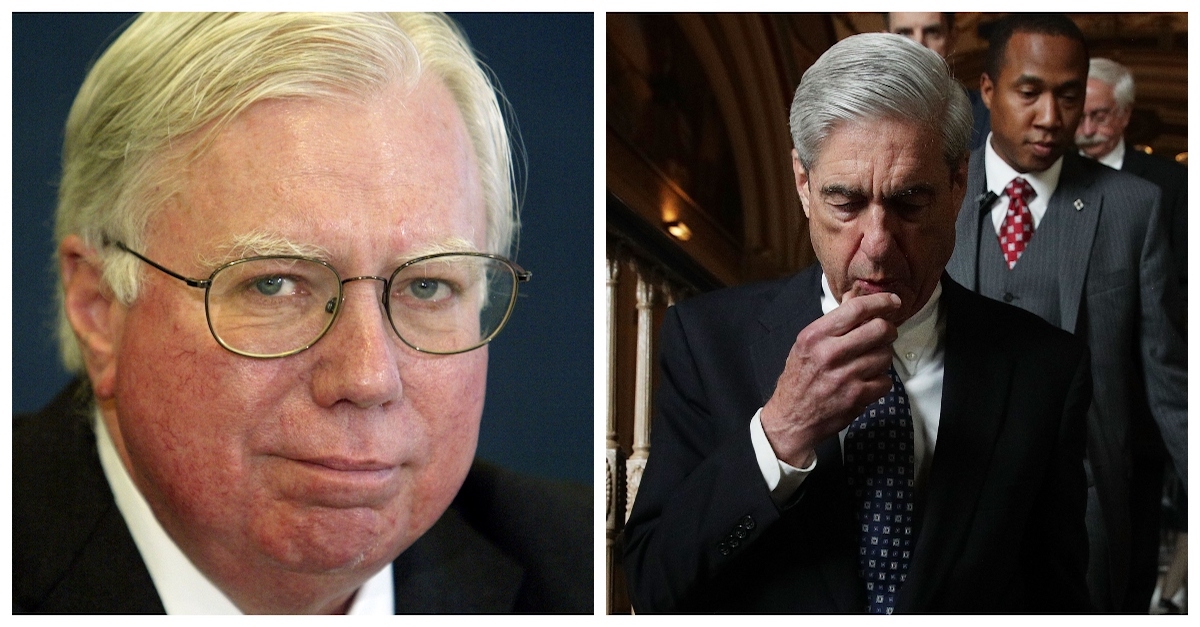 President Donald Trump has a joint defense agreement with conspiracy theorist Jerome Corsi, according to Trump's lead attorney Rudy Giuliani.
The Daily Beast's Asawin Suebsaeng and Scott Bixby report that Giuliani confirmed the agreement during an interview on Wednesday morning. Corsi has previously claimed the joint defense agreement existed and when pressed on Corsi's claim, Giuliani said he confirmed that such an agreement was in effect by asking about it with Trump lawyer Jane Raskin.
Giuliani also said the Trump-Corsi agreement is a relatively new development and that he had spoken with President Trump about the pact and Corsi fairly recently. According to Giuliani, Trump "vaguely knows" Corsi, but "doesn't remember the last time they spoke."
Corsi himself obliquely referred to the agreement with President Trump in a recent book. He wrote:
After debating the pros and cons, we had decided that anytime we could get the attorney for the president of the United States to offer assistance to us, we needed to say to be thankful and accept.
Corsi is a well-known proponent of the birther conspiracy theory leveled against the citizenship of former president Barack Obama that Trump once promoted as well. Giuilani noted the connection between the joint defendants, saying that he knew of Corsi's work on the "birther stuff."
Giuliani apparently hasn't kept up on all goings-on related to Corsi, however, asking the Daily Beast's Suebsaeng, "doesn't he have a podcast?" The reporter said he then had to "explain to the president of the United States's lawyer what Infowars is, and it was a weird way to start the day."
The apparent oddity of the Trump-Corsi joint defense agreement is perhaps belied by Giuliani's October 2018 statement that President Trump has 32 operative such agreements with other people being investigated by Special Counsel Robert Mueller.
"Defense lawyers talk to each other all the time where, as long as our clients authorize it, therefore we have a better idea of what's going to happen," Giuliani told Politico. "That's very common."
Legal experts, including Law&Crime founder Dan Abrams, are now beginning to suspect that these joint defense agreements–when taken in tandem with swiftly-crumbling plea agreements inked and then backed out of by at least two of Mueller's targets–have metamorphosed into inside lines on the special counsel's Russia inquiry.
Speaking with ABC's George Stephanopoulos on Wednesday, Abrams speculated that convicted felon and former Trump 2016 campaign chair Paul Manafort was "playing both sides" by accepting the plea agreement, then breaking it–and possibly feeding Trump's legal team information in the process. He said:
It's starting to feel like he was on a fact-finding mission for the Trump team to figure out exactly what do they want, what kind of questions are they asking, et cetera.
"By saying 'I'm with you, prosecutors,' and then not just not cooperating, but–according to prosecutors–lying repeatedly…You have to believe he thinks he's got another option here," Abrams theorized.
[images via Matthew Cavanaugh/Getty Images, Alex Wong/Getty Images]
Follow Colin Kalmbacher on Twitter: @colinkalmbacher
Have a tip we should know? [email protected]