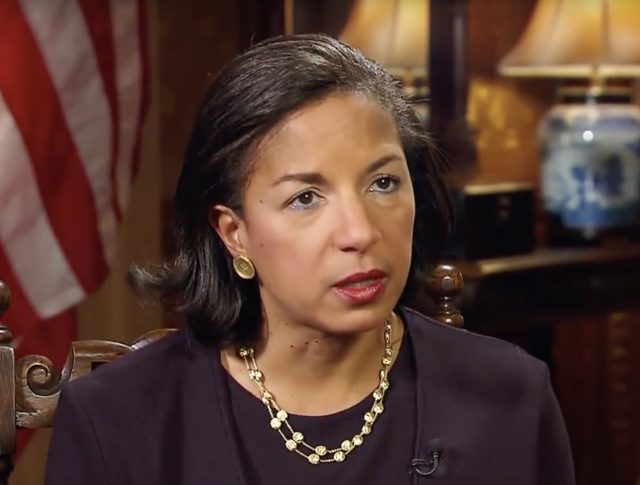 President Donald Trump told reporters at The New York Times that he believes Susan Rice may have committed a crime when she reportedly ordered the unmasking of the identities of Trump officials when they were caught up in foreign intelligence intercepts.
"I think it's going to be the biggest story," Trump told The Times. "It's such an important story for our country and the world. It is one of the big stories of our time."
So is it true? Could Susan Rice have committed a crime? We checked in with some top national security experts, and most say Trump's allegations would be very difficult to prove. That's because a prosecutor would have to find that Rice unmasked the identities of these Trump officials for purely political purposes. Even if that were the case in reality, a prosecutor would have to find proof of her intent in order for a jury to find her guilty of a crime.
"I still see it as particularly premature to envision even an ambitious U.S. attorney securing an indictment," Bradley Moss, a national security expert, told LawNewz.com.
On Tuesday, after a slew of media reports about the unmasking, Rice appeared on MSNBC to deny she leaked any intelligence information. However, as we noted, she did not deny allegations that she "unmasked" the Trump officials' identities during the course of her review of classified national security information. However, simply unmasking names is not necessarily illegal.
USSID 18 provides a legal process that delineates how security officials should handle what happens when U.S. citizens are inadvertently picked up during lawful intercepts of foreign officials. Most of the time, the law requires that the names be redacted, but there are times in which these names can be legally unmasked. For example, if it helps Rice better understand foreign intelligence information or assess its importance, she might be justified in unmasking the names. (see Section 7.2 and 7.3).
"It's an issue of proof. If there is actual evidence that she asked for the unmasking to be done for exclusively political purposes, and none other, then yes, it would be in violation of USSID 18," Moss said, adding that it would be very difficult to ever prove.
"At this point, there is absolutely no indication she committed a crime. For one thing, we still don't know exactly what she did or did not do, and there are legitimate and lawful reasons why US persons' names would be unmasked," attorney and national security expert Mark Zaid told LawNewz.com.   "It was entirely inappropriate that the President of the United States has publicly prejudged an investigatory matter that could conceivably have criminal implications."
Robert Barnes, a LawNewz columnist and California trial attorney, disagrees. He believes that there is a higher bar for revealing U.S. citizens' names, and that such action by Rice could be a violation of the Fourth Amendment.
Some defenders of Rice suggests she could label anything she wanted of "foreign intelligence value," under the implementing regulatory protocols and thereby label it "foreign intelligence information" under the statute. The law is not so broad. Instead, the statute requires "foreign intelligence information" be "necessary to" the "conduct" of "foreign affairs" and to the person's position, and further employs a more limiting specific definition in the regulations in USSID for warrant-less seizures, as necessary to make it constitutional under the 4th Amendment. That definition is limited to criminal conduct type behavior, or its security equivalent. That is why the regulatory protocols give specific "examples of the type of information that meet this standard" of "foreign intelligence value." What are those examples? Criminal-type behavior or imminent security risks. Why those restrictions? Because that makes it conform to the First and Fourth Amendment limitations on the intercept of Americans' private political conversations. The examples are not prohibitive of like conduct being included, but it must be like conduct — e.g., criminal-type behavior or imminent-safety risk.  Why? So it can be constitutional under the 4th Amendment, because the act of unmasking is an act of invading Americans' privacy, covered by the 4th Amendment, and political speech in private is a right protected by the First Amendment.  This is the biggest mistake the Obama defenders have been making, and reflects their lack of understanding of the law's Constitutional context and legislative history. Put most simply, neither the 1st Amendment nor the 4th Amendment has a "talking to foreigners" exception.
Have a tip we should know? [email protected]
Rachel Stockman - President / On Air Host