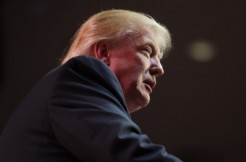 On Tuesday, someone claiming to be Katie Johnson filed a federal lawsuit claiming Donald Trump and convicted billionaire pedophile Jeffrey Epstein sexually assaulted her when she was a teenager. The lawsuit could potentially be a hoax, as it was filed pro se (without an attorney). In addition, the number listed goes to a voicemail linked to another person, and the address listed appears to be a foreclosed house.
Trump, frontrunner for the Republican Party's presidential nomination, denied the claim.
"The allegations are not only categorically false, but disgusting at the highest level and clearly framed to solicit media attention or perhaps, are simply politically motivated," Trump told RadarOnline.com. "There is absolutely no merit to these allegations. Period."
The woman, Katie Johnson, claimed she suffered "extreme sexual and physical abuse" from the age of 13. The lawsuit, first obtained by Radar, states Trump and Epstein made her a "sex slave" from June to September 1994. The complaint detailed several times in which Trump allegedly abused the plaintiff. She said that as a teen, she was threatened with her and her family's deaths if she came out with the truth. There was at least one other alleged victim, another teen girl.
But Radar learned the plaintiff's address on court documents belonged to a foreclosed house. A neighbor told the online outlet that the house had been empty for a year after the previous owner—who was not Johnson—died. The Daily Mail made similar findings.
Johnson seeks $100 million in damages from Trump and Epstein.
Epstein served over a year in prison after he plead guilty in 2008 to soliciting paid sex with an under-aged girl. Before his downfall, he was known as a major Wall Street investment banker. Trump faced sexual assault allegations before in a 1997 lawsuit that was withdrawn less than a month after it was filed. But there is a probability this new one could be filed just to cause a stir, and without any legal or factual merit.
[image via Christopher Halloran / Shutterstock.com]
Have a tip we should know? [email protected]