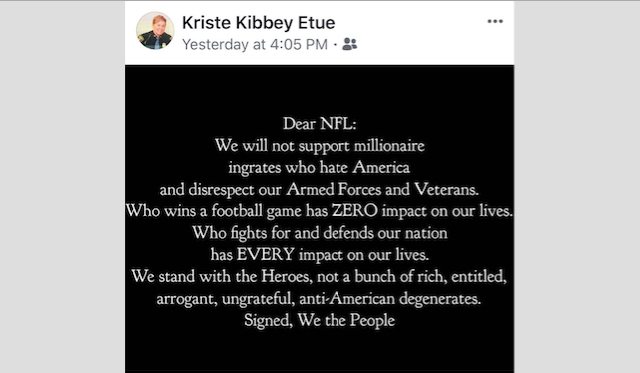 The director of the Michigan State Police is the latest public official to find themselves in the hot water of public disrepute–and could lose her job–after referring to athletes protesting racism and police brutality as "anti-American degenerates."
Col. Kriste Kibbey Etue took to Facebook and unleashed her feelings about the avalanche of professional athletes moved by the protest of former 49er quarterback Colin Kaepernick to take a knee during the national anthem. She wrote:
Dear NFL: We will not support millionaire ingrates who hate America and disrespect our Armed Forces and Veterans. Who wins a football game has ZERO impact on our lives. Who fights for and defends our nation has EVERY impact on our lives. We stand with the Heroes, not a bunch of rich, entitled, arrogant, ungrateful, anti-American degenerates. Signed, We the People
Originally reported by the Detroit Free Press early yesterday evening her post was almost immediately scrubbed as public attention zoomed in on the politically-charged Facebook rant.
And as Facebook giveth, so does Facebook taketh away. Response on the social media site was immediate and brutal.
Michigan American Civil Liberties Union Director Kary Moss wrote:
She undermines her own position and the trust of the community with these remarks and utter disregard of the people she represents. It is the sworn duty of the State Police Director to uphold the Constitution which protects all people in this State and to demonstrate respect for those principles.
Progress Michigan's Executive Director Lonnie Scott called for Etue's dismissal, writing, "This isn't about being offended. It's about the leader of the State Police missing the entire point of protesting police brutality. This statement helps nothing."
Those comments were echoed by The Detroit Coalition Against Police Brutality, whose spokesman, Kenneth Reed, told the Free Press, "Etue's words simply reflect the continued racist actions of the Michigan State Police, both in how they treat our citizens and in how their hiring demographics fail to even approach equality."
As the calls for her dismissal increased, Etue finally apologized, writing on the Michigan State Police official Facebook page, "It was a mistake to share this message on Facebook and I sincerely apologize to anyone who was offended. I will continue my focus on the unity at the Michigan State Police and in communities across Michigan."
Finally, Etue deleted–or hid–her entire personal Facebook page.
[image via screengrab]
Follow Colin Kalmbacher on Twitter: @colinkalmbacher
Have a tip we should know? [email protected]