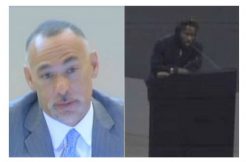 Matthew Johnson, President of the Los Angeles Police Commission, recently filed a restraining order against Black Lives Matter activist Trevor Gerard.
According to the Dec. 19 order obtained by LA Weekly, Gerard stalked and tried to intimidate Johnson at his home and law firm. It allegedly went as far as a "gratuitous reference" to the commissioner's children.
"Matt Johnson has four children, one of whom I understand is a boy. God forbid, Matt Johnson, that you ever have to suffer at the hands of men like Charlie Beck," Gerard said at a Nov. 1 board meeting (after the 3:01:00 mark), later adding, "God forbid you have to sit in this audience and suffer because your boy was just another n—r in the crosshairs."
Beck is the LAPD chief of police. He presided over the department when one of his officer's shot and killed 30-year-old Redel Jones. The L.A. Police Commission later ruled this was lawful after officials said she was wielding a knife.
We've reached out to Gerard for comment.
"I never told him that he should be afraid of me," he told L.A. Weekly. "I never told him to meet me outside. I never threatened him with any kind of physical violence. " He said his actions and comments were taken out of context, and explained that he did show up at Johnson's home and law firm, but that was as part of protests.
"The people who sit on the commission board largely have acted as a rubber-stamp body for the extreme levels of violence that LAPD has been engaging in," Gerard said, according to the LA Weekly story. "And they have become too comfortable with the way that we're forced to engage them in that meeting space, which is in the LAPD headquarters itself."
Johnson wants Gerard to keep at least 100 yards away from him, his wife, his kids, house, and law firm. According to LA Weekly, that limits drops to five yard if he attends public meetings with the Board of Police Commissioners, and he can still speak as a member of the public. Gerard said the LAPD arrested him for being a Johnson's home on Dec. 17, and said they were investigating him for criminal trespass. We've reached out to them for confirmation.
[Screengrab via City of Los Angeles; Johnson on left, Gerard on right]
Have a tip we should know? [email protected]