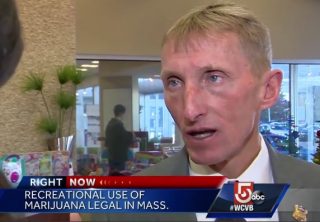 Recreational marijuana officially became legal in Massachusetts on Thursday. Adults in the state can now possess, use, and grow pot, but Boston Police Commissioner William Evans warns that this is no free-for-all.
"The way it was marketed, anything goes. Anything doesn't go," Commissioner Evans told WCBV, adding that "we need to educate our officers now because the law is so complex in terms of age, ounces and what you can cultivate."
The new law only allows people to have up to one ounce of marijuana on them outside their home, and no more than 10 ounces at home. People can grow no more than 12 marijuana plants per home, and stores selling pot products won't be opening for at least another year, so while having marijuana will be legal, getting it won't be any easier just yet. Also, you have to be at least 21 years old to have it.
There was a lot of contention over legalized recreational marijuana use. Massachusetts is the first east coast state to legalize the substance for recreational use. Organizations including the Catholic Church were fighting to keep it outlawed. The Boston Archdiocese pitched in $850,000 towards efforts to keep pot illegal before November's election.
[Image via WCBV screengrab]
Have a tip we should know? [email protected]