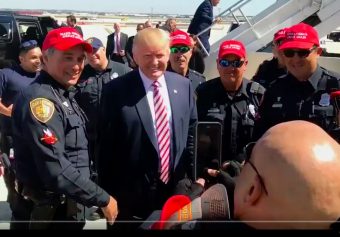 San Antonio Police Chief William McManus announced on Friday that nearly two dozen officers (including six supervisors) will face disciplinary action for wearing Trump campaign hats while helping the U.S. Secret Service at a campaign rally last week.  The Chief says the hats violated Departmental and City police and the officers used "poor judgement" by wearing the paraphernalia while on official duty.
Police Chief William McManus Statement on Uniformed Officers in Campaign Hats pic.twitter.com/sAchOaaVuL

— City of San Antonio (@COSAGOV) October 14, 2016
"I have met personally with the involved offices and the following correction action will be taken: six supervisors will be issued a written reprimand and seventeen officers will be provided written counseling. In addition, as part of the corrective action, the officers involved with receive training this month that will focus on the importance of impartiality and fairness in performance of officials duties," Chief McManus said in a statement.
Donald Trump tweeted about the San Antonio rally on October 11. "Thank you, fellas," Trump can be heard on the video he posted to his twitter account.
Thank you Texas! If you haven't registered to VOTE- today is your last day. Go to: https://t.co/HfihPEA3Sp & get out on 11/8/16 to #MAGA! pic.twitter.com/KlRx4GoO64

— Donald J. Trump (@realDonaldTrump) October 11, 2016
[Photo: Screengrab]
Have a tip we should know? [email protected]
Rachel Stockman - Editor in Chief / On Air Host