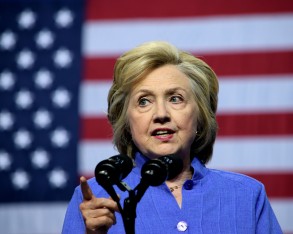 The FBI on Monday released additional documents related to its investigation into Hillary Clinton's use of a private email server during her tenure as Secretary of State.  The latest release includes an interview summary that suggests an open source search of the Deep Web conducted by a private investigator uncovered a potentially classified document that may have been stolen from Clinton's server.
On June 6, 2016, the FBI interviewed an unidentified individual who told agents he was contacted by a senior staff member on the Senate Judiciary Committee about concerns that data from Clinton's private server might end up overseas.  According to the FBI summary, the Senate staffer wanted the witness to "determine if there was an intrusion into Clinton's server and, if so, whether exfiltrated data fell into the hands of a foreign power."
However, the Senate staffer did not have funding for the project, so she contacted Newt Gingrich in August or September of 2015 to discuss funding options.  In December 2015, Gingrich was said to have suggested that the witness reach out to Judicial Watch to see if they might be interested in funding the project.
The witness said he then contacted Judicial Watch and after conferring with legal counsel, the parties reached agreement to conduct the relevant search in February or March 2016 and the witness was paid approximately $32,000.  Pursuant to legal counsel's directive, the search could not involve accessing any systems without authorization and could only review open source data.
The witness explained he then contacted a former executive at a cyber intelligence firm that ingests and indexes data from the Deep Web.  The witness paid the former executive $2,500 to conduct searches of the index based on terms agreed to by Judicial Watch's legal counsel.
The search uncovered hundreds of files that the witness believed to be from Sidney Blumenthal's server on a server in Romania.  These files included Microsoft Word, Excel and other documents, but no emails.  Blumenthal's email account was breached by the Romanian hacker Guccifer.
According to the witness, the search also uncovered "one sensitive Excel file listing the names of known or suspected jihadists in Libya" and another portion of the document appeared to written in Russian.  The witness said the file "did not come from Blumenthal's server, but contained a reference to an IP address range that included the IP address of Clinton's server."  The witness told FBI agents he became concerned that he had uncovered potentially classified material after finding this file.  He then stopped the project, pursuant to the terms of the agreement with Judicial Watch.
The witness also turned over relevant documents to agents during his interview, but the FBI has not released those materials.
Judicial Watch president Tom Fitton told LawNewz.com the expert was hired as part of a project that "sought to uncover any evidence from open sources on the Internet as to whether Hillary Clinton's government emails had been hacked and were publicly available."
In the course of the project, Fitton explained the hired expert "uncovered evidence from open source data of possible hacking and the existence of a document that might be classified" and "immediately contacted the FBI and turned his initial findings over to the agency."
The project is still ongoing and Fitton said, Judicial Watch is "disconcerted by what we have found thus far from publicly accessible sources about the possible hacking of Hillary Clinton's illicit server. It is unfortunate that Judicial Watch – not Congress or federal law enforcement – undertook this basic investigative step."
Have a tip we should know? [email protected]