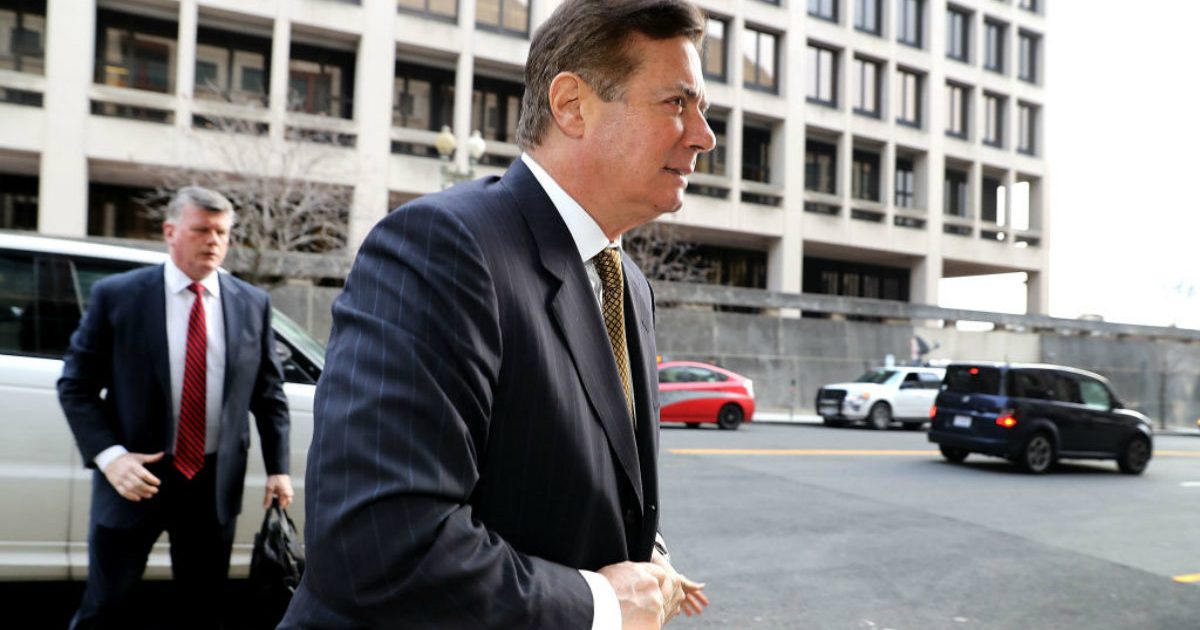 Convicted felon Paul Manafort might just cut his losses and accept a plea deal to avoid going through a second trial in Washington, D.C., according to the latest reporting on the matter.
Bloomberg reports that a "person familiar with the matter" said that Manafort's defense team has been in discussions with special counsel Robert Mueller and his team of prosecutors on a plea deal.
That may not seem like a huge development, but it could be if you consider that it was recently reported such talks had broken down. Instead, there are even more specifics out there about the kinds of things being negotiated.
Manafort, who has already been found guilty on 8 of 18 counts of bank and tax fraud charges in the Eastern District of Virginia, is accused of money laundering, obstruction of justice and violating the Foreign Agents Registration Act (FARA) by acting as an unregistered foreign agent. That lattermost charge is connected to Manafort's lobbying in Ukraine.
The plea negotiations reportedly hinge on "which charges Manafort might admit and the length of the sentence to be recommended by prosecutors." Even more importantly, it may hinge on whether Manafort agrees to cooperate with the special counsel.
The motivation for the defense seems to be to mitigate damage, since Manafort already faces 10 years behind bars in advance of a second conviction. The thinking is that it may be better to take this path than to risk more prison and save on legal costs.
Most interestingly, it's been suggested that if the two sides do cut a deal, Mueller may be open to a reduced sentence in both cases against Manafort.
Former federal prosecutor Gene Rossi, who recently made an appearance on the Law&Crime Network, told Bloomberg that Manafort may be thinking he doesn't have the "emotional energy" to endure a second high-profile trial.
"He may say, 'I'm going plead and cooperate. I don't have the money. I'm exhausted and don't have the emotional energy to go through this," he said. "My family and close friends have been through a big storm, and I don't want to put them through that again.' Defendants get worn down."
Former federal prosecutor Barbara McQuade added, however, that cooperation with the special counsel is likely the key to a reduced sentence.
"It may be that Mueller is insisting on cooperation before offering any reduction in sentence," she said.
The Wall Street Journal reported at the end of August that a plea deal might not be in the cards, though it had been discussed.
Per WSJ:
The plea talks on the second set of charges stalled over issues raised by Special Counsel Robert Mueller, one of the people said. It isn't clear what those issues were, and the proposed terms of the plea deal couldn't immediately be determined.
The snag is likely the cooperation element, since Team Mueller has no incentive to cut a deal without gaining anything.
As of now, opening statements for trial no. 2 are scheduled for Sept. 24. The clock is ticking.
[Image via Chip Somodevilla/Getty Images]
Have a tip we should know? [email protected]