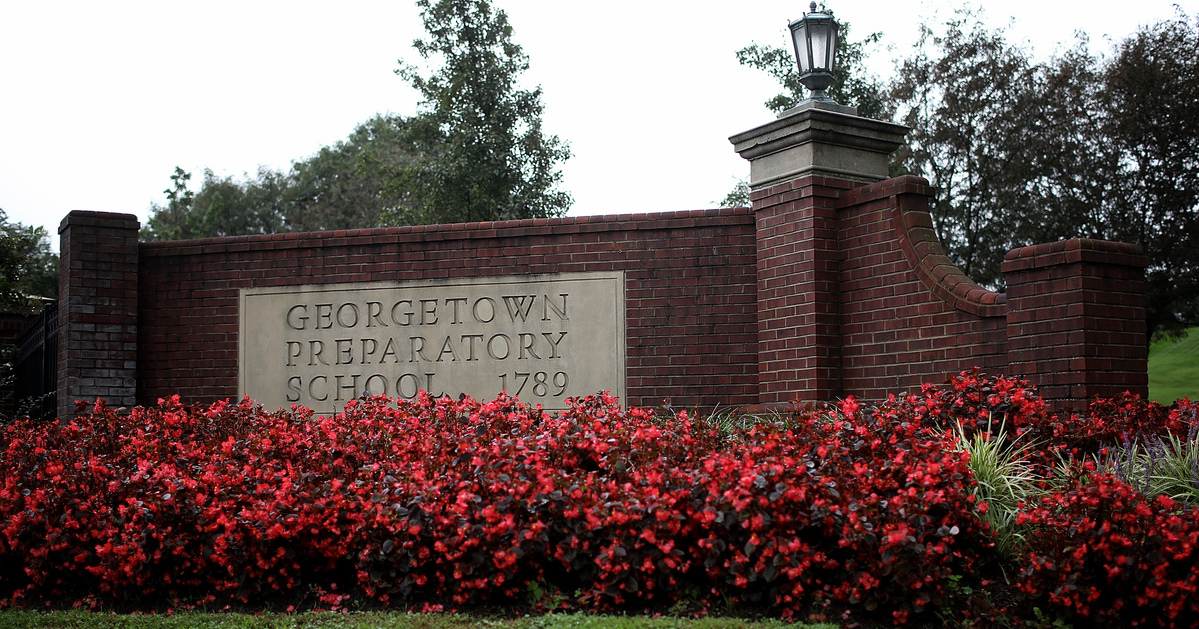 Alumni from Georgetown Prep are calling on their fellow graduates of the elite preparatory school to come forward with information about Brett Kavanaugh if they have it.
The self-described "call to action" comes in light of the FBI's re-opened background investigation into the embattled Supreme Court nominee–which is reportedly only focused on two sexual assault allegations leveled against him by Dr. Christine Blasey Ford and former Yale acquaintance Deborah Ramirez.
Posted to the Medium and Google Docs platforms late Saturday morning, the open letter takes aim at Georgetown Prep's by-now-infamous principles of service and notes:
Georgetown Prep calls on its graduates to serve others. Principles of ethics, virtue, and justice constitute the foundation of a Prep education. These principles are but empty words unless we act on them. So we are calling on our fellow alumni to put the best of what Prep stands for into action.
The letter also explicitly calls for anyone with knowledge of Kavanaugh's alleged sexual assaults to provide that information to the FBI on their own volition–perhaps particularly relevant in light of NBC News' bombshell report that President Donald Trump personally intervened to severely limit the scope of the FBI's inquiry into Kavanaugh.
The letter notes, "The Senate has called for an FBI investigation. If you know anything surrounding the allegations against Brett Kavanaugh, now is the time to come forward. Whether it is knowledge of specific events in these allegations, or just background to those events, please do not remain silent, even if speaking out comes at some personal cost."
Cast as an explicit gesture of solidarity with Dr. Ford and survivors around the globe, the call to action also asserts the truth of the charges claimed by Ford during her stirring Thursday morning testimony in front of the Senate Judiciary Committee.
"We are alumni of Georgetown Prep standing in support of Dr. Christine Blasey Ford and in solidarity with women everywhere who have endured sexual assault, violence, and harassment," the letter begins, "We have heard Dr. Blasey Ford's courageous and indelible sworn testimony in open hearing before the Senate Judiciary Committee and we believe her."
As of this writing, the letter was signed by two members of the suburban Maryland school's Class of 1986, Fikri Yucel and Bill Barbot. Barbot has recently weighed in against various claims made by Kavanaugh during his testimony in front of the Senate on Thursday afternoon–against the veracity of Kavanaugh's descriptions of certain yearbook inscriptions.
Law&Crime reached out to Mr. Barbot after the letter was published. In an interview, Barbot said his exposure to Kavanaugh's public statements–during the Fox News interview and in Senate testimony–and the what he believes to be the false nature of those statements, prompted him to come forward with his criticism of the Supreme Court nominee.
"What troubles me most are the assertions that came up during his testimony that indicated a more innocent read–regarding what came up in his yearbook and his past at the high school, specifically regarding the drinking culture and the general attitudes toward girls in the community at the time," he said.
"I think about Kavanaugh's performance during the Senate hearing and as many have noted, it was a job interview. I think there were two respects in which he failed that job interview," Barbot said, focusing on two specific instances in which he found Kavanaugh not credible.
"First: He was trying to put a very positive spin on the yearbook and the drinking culture to come off as a choir boy and everybody's favorite next door neighbor. And that somebody with the ability to twist the truth and the past does not deserve a seat on the Supreme Court. Second: We are looking for people with the most unimpeachable character to sit on the Supreme Court regardless of political persuasion. And, to my mind, [Kavanaugh] did not demonstrate that."
Barbot stressed that his support for Dr. Ford was not based on first-hand knowledge of the incident, but also noted that his time at Georgetown Prep briefly overlapped with Kavanaugh's time there. "I did not have a direct relationship with [Kavanaugh]. But Georgetown Prep was a relatively small school," he said, "It was easy enough to know who was the big man on campus. He was popular–him and his crew. My experience was knowing him as a member of the football team and as the captain of the basketball team. I didn't have a lot of social interaction with him."
Barbot and Yucel believe others have more information than they're letting on. Speaking specifically about the open letter, Barnot noted:
We felt that this needed to be done. There's been a lot of reluctance of Prep students to speak on the record about this. It can be perceived as a relatively closed community. Business associates. Even now, they go to the same country clubs now as they did when they were in high school. We weren't particularly close with that kind of social situation. It's not about if I open my mouth, suddenly I'll become a pariah. We have less to lose by opening our mouths. But the truth is important. I care about a person of the deepest integrity being seated on the Supreme Court and I don't say that lightly.
Barbot continued, "And the idea is that there's a lot of classmates in the community and in the class with Brett who may have been in the same kind of parties as Brett and Mark Judge and that social circle attended. And they may have things to say that are significant in light of that very credible testimony by Dr. Ford. And we couldn't think of any other way to coax that out of our schoolmates than by writing an open letter. We've got one week for the FBI to finish their investigation. Now is the time to come forward. My hope is that good information, useful information, for the basis of the FBI's investigation will come out."
"My hope is that any of our former schoolmates who were on the fence before now will come out and put their name on this letter and provide testimony that would be corroborating for Dr. Ford," Barbot said, "Thus far, I feel the truth has not had a full airing. Dr. Ford has been left to carry that on her own and I feel that is unfair. Others who could provide insight have not been called to testify before Congress and stand-and-deliver and provide their truth."
The open letter ends with an explicit ask to Georgetown Prep's alumni community, "Reach out to other alumni personally. Ask questions, start conversations. Our silence will serve no one."
[image via Win McNamee/Getty Images]
Follow Colin Kalmbacher on Twitter: @colinkalmbacher
Have a tip we should know? [email protected]