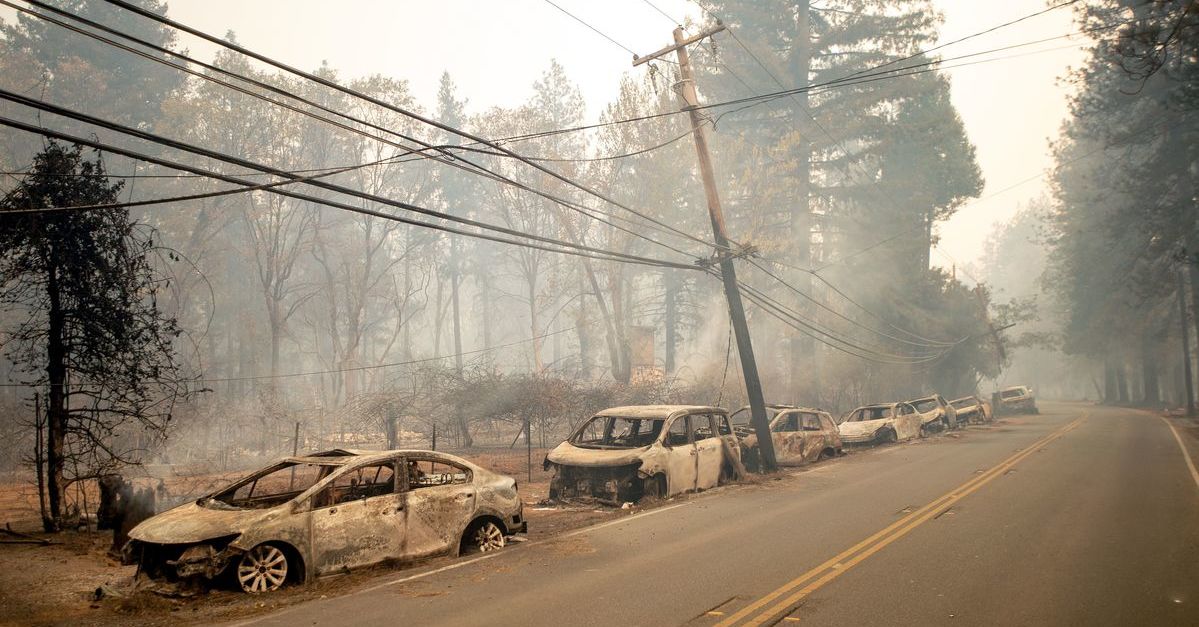 California utility company Pacific Gas & Electric Co. (PG&E) allegedly delayed necessary safety repairs for at least five years on a nearly 100-year-old high-voltage transmission line which is believed to have caused the deadliest wildfire in Golden State history.
According to the Wall Street Journal, in 2013, the nation's largest utility company told federal regulatory authorities that improvements were needed–and imminent–for multiple "towers, wires and hardware pieces" on the Caribou-Palermo line.
Those allegedly scheduled improvements never occurred.
PG&E told federal regulators the same story a few times after that. They were going to start the repair project in 2014. The project never happened. Then they were going to repair the line in 2015. The repairs still didn't come. PG&E would start necessary repairs on the line, they said, in 2016. They pushed it back again. In 2017, PG&E's federal filing claimed they were prepared to overhaul the line–which has been in operation since 1921–but the work never started.
In 2013, PG&E workers noticed that the line sagged considerably and that several trees were encroaching upon it. Work was scheduled to have been completed by February 2016 and cost upwards of $30.3 million. The project was delayed.
In 2013, PG&E Chief Executive Officer Anthony Earley took home $9.5 million; in 2014, he took home $11.6 million; in 2015, he was awarded $12.2 million. Christopher Johns, who was president of PG&E  from 2009-2015, retired with a $38 million bonus after averaging take-home pay of roughly $4.5 million per year during his tenure at the scandal-plagued utility.
During the five year-period in which the oft-promised-but-never-started Caribou-Palermo repairs were supposed to have begun, executive pay easily trebled the amount proposed to make the ancient line safer. PG&E clearly had other priorities for where that money was to be spent.
In fact, trouble with the Caribou-Palermo line didn't even start in 2013–that's just when the company admitted to the federal government the severity of the problem that company had known about several years before.
In 2010, California's grid operating authority told PG&E that their line faced "thermal overload"–meaning that too much power was coursing through the wires. Implementing repairs and replacement should have occurred by 2018 at the latest, the regulator concluded.
A resident who lives near the troubled lines also noticed that PG&E workers had made plans to address some of the vegetation overgrowth issues on several separate occasions.
"The same frickin' tree got marked three times, but was never cleared," 37-year-old Xela Young told the Journal. "It seemed like they did a lot of preparation, but not a lot of follow-through."
In 2012, storms and strong winds caused problems along the Caribou-Palermo line and PG&E performed patchwork repairs–re-opening the line several days later and each time promising that a thoroughgoing and holistic response to the well-documented and perennial problems were this time, finally, in the works.
In 2018, PG&E, for the last time, told federal regulators that their work would begin in June and finish up late in the year. That would-be work also never started and in a matter of months the perpetual putting off would be forever too late.
Per the Journal:
On Nov. 8, 2018, winds picked up before sunrise near Paradise, Calif., when a wire snapped free from the Caribou-Palermo line, creating an electric arc that scorched the metal tower supporting it. A few minutes later, a PG&E worker spotted a quarter-acre fire under the line, the company has disclosed. Within hours, what became known as the Camp Fire destroyed Paradise and killed 85 people.
The line is currently shuttered and the utility company has no public estimate for when service will resume.
[image via JOSH EDELSON/AFP/Getty Images]
Have a tip we should know? [email protected]