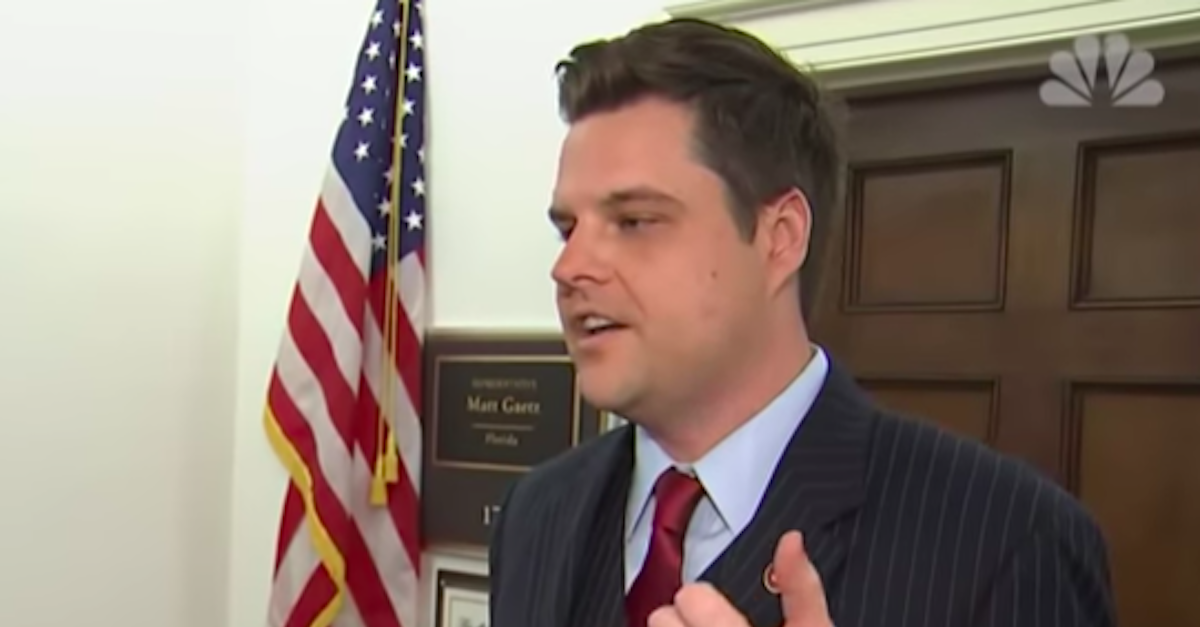 Rep. Matt Gaetz (R-Florida) on Tuesday afternoon posted a tweet directed at Michael Cohen the night before Cohen's appearance before the House Oversight Committee. Gaetz appeared to threaten Cohen with revelations of personal information, and apparently the Florida State Bar took notice.
According to The Daily Beast, the Florida Bar is now investigating Gaetz—who is licensed to practice law in the state—over the questionable post. Gaetz had tweeted:
Hey @MichaelCohen212 – Do your wife & father-in-law know about your girlfriends? Maybe tonight would be a good time for that chat. I wonder if she'll remain faithful when you're in prison. She's about to learn a lot…
Gaetz later deleted the tweet and apologized, after Speaker of the House Nancy Pelosi posted a statement saying that members of Congress should be careful of what they say online, pointed out that tweets like this are not protected by the Speech or Debate Clause, which provides limited immunity to lawmakers' statements.
Speaker, I want to get the truth too. While it is important 2 create context around the testimony of liars like Michael Cohen, it was NOT my intent to threaten, as some believe I did. I'm deleting the tweet & I should have chosen words that better showed my intent. I'm sorry. https://t.co/Rdbw3sTQJD

— Matt Gaetz (@mattgaetz) February 27, 2019
An apology doesn't erase the past, however, and the Bar investigation is looking into whether Gaetz violated legal ethics rules. A spokesperson for the Bar said, "we have opened an investigation," and that "[i]f rules have been violated, The Florida Bar will vigorously pursue appropriate discipline by the Florida Supreme Court."
Gaetz was immediately called out on Twitter for seemingly threatening or tampering with a witness, which could be considered a criminal act.
The Congressman initially defended the tweet, saying it wasn't witness tampering, but "witness testing."
Besides being a possible crime, Florida's rules of professional conduct for attorneys says, "A lawyer should use the law's procedures only for legitimate purposes and not to harass or intimidate others."
Florida's guidelines for attorney discipline say that Gaetz would have 15 days to respond to a claim against him, and then a governing body would determine whether to move forward. Should they ultimately find him in violation of the rules of professional conduct, they can take action that includes suspension or revocation of his license, or merely a public reprimand.
Gaetz told the Beast on Wednesday that he was not aware of any investigation.
What makes Gaetz's tweet even more peculiar is that he isn't even on any of the committees that were set to question Cohen this week. He appeared behind closed doors before the Senate Intelligence Committee on Tuesday, and on Thursday he is scheduled for a closed-door session with the House Intelligence Committee.
[Image via NBC screengrab]
Have a tip we should know? [email protected]