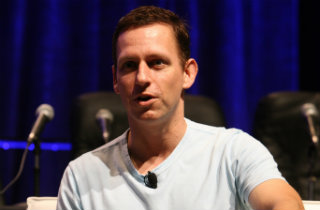 Tech billionaire Peter Thiel, best known these days for funding Hulk Hogan's invasion of privacy lawsuit against Gawker Media, took to the op-ed page of the New York Times' website on Monday afternoon. Titled "Peter Thiel: The Online Privacy Debate Won't End With Gawker," much of the column rehashes the basics of his and Hogan's war with Gawker through the lens of The Daily Beast's heavily maligned and now deleted article that outed numerous gay Olympians. The lawsuit led to Gawker filing for Chapter 11 bankruptcy protection; the bankruptcy court is putting the company up for auction on Tuesday after having accepted bids on Monday.
When it comes to the Hogan-Gawker lawsuit, this is probably the key quote from Thiel:
Mr. Bollea could not have secured justice without a fight, and he displayed great perseverance. For my part, I am proud to have contributed financial support to his case. I will support him until his final victory — Gawker said it intends to appeal — and I would gladly support someone else in the same position.
Not that it was in any doubt, but there it is in plain English: He's in this for the long haul, which is not a surprise since he has more than enough funds. Also of note, you may recall that in the original New York Times article where Andrew Ross Sorkin got Thiel to admit to funding the Hogan lawsuit, he's never quoted directly as saying that he got involved because Gawker published an article about him being gay when he was still publicly closeted. Occasionally, you'll hear people point to this as Thiel obfuscating that his issues are over another slight, but in the new op-ed, he says it outright:
As an internet entrepreneur myself, I feel partly responsible for a world in which private information can be instantly broadcast to the whole planet. I also know what it feels like to have one's own privacy violated. In 2007, I was outed by the online gossip blog Gawker. It wasn't so many years ago, but it was a different time: Gay men had to navigate a world that wasn't always welcoming, and often faced difficult choices about how to live safely and with dignity. In my case, Gawker decided to make those choices for me. I had begun coming out to people I knew, and I planned to continue on my own terms. Instead, Gawker violated my privacy and cashed in on it.

It didn't feel good, but I knew it could have been much worse. What I experienced would be minor in comparison with the cruelties that could be inflicted by someone willing to exploit the internet without moral limits
Owen Thomas, who wrote the article in question, titled "Peter Thiel is totally gay, people," now the business editor of the San Fransisco Chronicle, disputed Thiel's claimed motivations in a Medium post published in June. Thomas cited a " subsequent conversation with a representative for Thiel who assured me that he had no issue with the post, which he viewed as simply stating a fact," questioning Thiel's motives and wondering if there's an unrelated dispute between the billionaire and Gawker founder Nick Denton.
When LawNewz asked a New York Times spokesperson for comment on Thomas's claims, we were told that "This is a question best directed to Mr Thiel," but not given contact information for his public relations staff. If we can locate a rep for Thiel and get such a statement, we will update this article.
Have a tip we should know? [email protected]