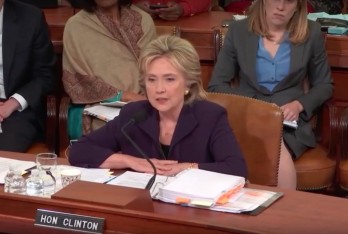 Two Republican lawmakers on Monday renewed their request for the Department of Justice to investigate whether Hillary Clinton committed perjury during her testimony before the Select Committee on Benghazi.
House Oversight and Government Reform Committee Chairman Jason Chaffetz and House Judiciary Committee Chairman Bob Goodlatte sent a letter to U.S. Attorney for the District of Columbia Channing Phillips that outlines several specific areas in which Clinton's testimony was directly contradicted by the FBI's findings announced in July by Director James Comey.
The letter states, in part:
During a House Select Committee on Benghazi hearing on October 22, 2015, Secretary Clinton testified with respect to (1) whether she sent or received emails that were marked classified at the time; (2) whether her attorneys reviewed each of the emails on her personal email system; (3) whether there was one, or more servers that stored work-related emails during her time as Secretary of State; and (4) whether she provided all her work-related emails to the Department of State.
The House Oversight Committee also included a video on its website detailing several examples of the same inconsistencies referenced in the letter.
WATCH:
However, it remains unlikely that the Department of Justice will bring perjury charges against Clinton, despite the seemingly overwhelming evidence that Clinton did lie to Congress.  As LawNewz.com previously explained, the law places a high burden on prosecutors to charge someone with perjury and/or lying to Congress.  Prosecutors look very closely at both the specific question that was asked of a witness and the witness's exact response to the question.   Perhaps more relevant to this matter, prior history shows the Department of Justice just very rarely prosecutes individuals for lying to Congress.  Sadly, it has seemingly almost become expected that witnesses will not tell the whole truth before congressional panels.
READ the letter:
2016 08 15 JEC BG to Phillips USAO DC Perjury Investigation
Have a tip we should know? [email protected]