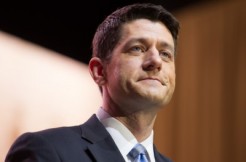 It's Kumbaya with the GOP, as House Speaker Paul Ryan, R-Wis. said presumptive Republican Party presidential nominee Donald Trump asked him to remain as chair for the party's national convention in July.
"I am the Speaker of the House. I am happy to serve in this capacity as the chair of our convention if our presumptive nominee wants me to do so," Ryan said after a meeting with Trump, according to The Hill. "It's the delegates that technically make that decision, but I would honor the decision of our nominee, and he did express that interest."
Last week, Ryan said he'd step down as convention chair if Trump asked him to. The House Speaker still balks at endorsing the presumptive nominee, but their relationship has publicly warmed up.
"The United States cannot afford another 4 years of the Obama White House, which is what Hillary Clinton represents," they wrote in a statement issued Thursday. "That is why it's critical that Republicans unite around our shared principles, advance a conservative agenda, and do all that we can to win this fall. With that focus, we had a great conversation this morning."
It'd be odd if Ryan wasn't the chairman.
"It's not written down in any rules that the top Republican in the House of Representatives shall chair the convention, but it has been a universal practice that if there's a Republican speaker, he chairs the convention," Virginia RNC chairman Morton Blackwell told The Blaze on Monday. Then-Speaker John Boehner presided over the 2012 GOP Convention.
The Republican National Convention is scheduled to run July 18 through 21 in Cleveland, Ohio.
[image via Christopher Halloran / Shutterstock.com]
–
Follow Alberto Luperon on Twitter (@Alberto Luperon)
Have a tip we should know? [email protected]