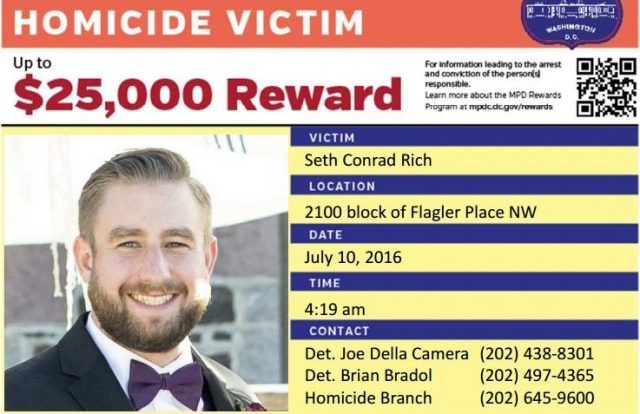 Joel and Mary Rich, parents of slain Democratic National Committee staff member Seth Rich, filed a lawsuit against Fox News and individuals connected to a story they published in 2016 that linked their son to WikiLeaks. The story had implied that Seth had given DNC materials to WikiLeaks, and that he was murdered because of it. Law enforcement officers ruled that Seth was likely killed while he was being robbed on the street. The complaint, filed on Tuesday, claims that the network "intentionally exploited this tragedy … through lies, misrepresentations, and half-truths."
The Riches claim in their lawsuit that Fox News convinced them to work with investigator Rod Wheeler in order to get to the bottom of what happened to their son. They accuse the network, reporter Malia Zimmerman, and Fox News guest Ed Butowsky of working with Wheeler "to pursue and develop a fiction that Seth had leaked thousands of DNC emails to WikiLeaks…. painting Joel and Mary's son as a criminal and a traitor to the United States."
The Riches also allege that the network, through its story, made it seem like they were involved in the story and confirmed its substance.
The complaint states that in December 2016, Butowsky reached out to the Riches and mentioned a rumored connection between their son and WikiLeaks. The lawsuit says that Joel and Mary told him that this was not true. Still, they claim, Butowsky continued to pursue that angle, and they continued to deny it. At the same time, Zimmerman was asking them for information for her story.
Butowsky then allegedly convinced the Riches to work with Wheeler, whom he hired under the promise that Wheeler would report his findings to them and not make public comments without their approval. The Riches claim that these assurances turned out to be false, and that Wheeler, Butowsky, and Zimmerman discussed and reviewed drafts of an article that linked Seth to WikiLeaks without consulting them.
The complaint also accuses Butowsky and Zimmerman of falsely telling Wheeler that they had an FBI source confirming communication between Seth and WikiLeaks. It also claims that Zimmerman provided similar information to Joel Rich, which the Riches allege was false.
According to the lawsuit, after Fox News published articles about Seth Rich's alleged ties to WikiLeaks, Joel and Mary requested a retraction. It wasn't until a week later, after the story received national attention, including on Fox News programming, that the network retracted the story, with a message stating, "the article was found not to meet those standards and has since been removed." The retraction came after Wheeler denied making statements that were attributed to him.
Wheeler himself has sued Fox News, Zimmerman, and Butowsky, claiming that an article included false quotes to make it seem that there was stronger evidence of the connection between Seth Rich and WikiLeaks than what he actually found.
The Riches' lawsuit makes claims for conspiracy and intentional infliction of emotional distress, as well as tortious interference with the contract between the Riches and Rod Wheeler.
Fox News told Law&Crime, "We can't comment on this pending litigation."
Butowsky said in an interview with ABC News that the complaint was "one of the dumbest" lawsuits he's seen, and that "Mr. and Mrs. Rich should come forward and be honest with people."
Seth Rich Lawsuit by LawNewz on Scribd
Note: This article has been updated.
Have a tip we should know? [email protected]