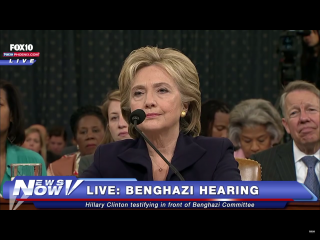 In August, the parents of two Benghazi victims sued Hillary Clinton, and now both sides are fighting it out in a federal court in Washington, D.C.  In the most recent filing, the parents' attorney, Larry Klayman, accused Clinton's legal team of lying in a court filing. The Clinton filing claimed she did not respond to the lawsuit because she was not properly served.
"The mistruths and lies of Defendant Hillary Clinton continue unabated. As a result of Defendant Clinton's untruthful conduct and her failure – two months after Plaintiffs filed the Complaint – to respect this Court's process and file an answer or responsive pleading, a default judgment should be entered on liability and the case should continue to trial to determine the amount of damages to remedy the wrongful death of Plaintiffs' sons and the defamation of Plaintiffs themselves," the motion filed Monday by the plaintiffs reads.
Pat Smith and Charles Woods are the parents of American U.S. Foreign Service member Sean Smith, and Navy SEAL Tyrone Woods, respectively. Both died during the September 11, 2012 attack on the U.S. consulate in Benghazi, Libya. They sued Clinton for wrongful death, defamation, and intentional and negligent infliction of emotional distress. Now they are hoping a Judge will uphold a default judgment against Clinton for failing to respond to the lawsuit.
Earlier this month, a clerk in federal court in D.C. entered a default judgment in the case after Clinton failed to respond to the lawsuit. David Kendall, Clinton's attorney, claims that Clinton was not properly served the lawsuit, and therefore the default was "erroneous." He also contends that the plaintiffs must serve the U.S. Department of State because the lawsuit involves her alleged action while she served as Secretary of State
But the plaintiffs' attorney claims Clinton was served the lawsuit at her campaign office in Brooklyn, New York.
"Defendant Clinton has a documented history of flouting courts and their process as well as the rule of law in general. She should not be permitted to dictate to this Court the rules of service of process and then lie about it," the plaintiffs wrote in their most recent motion. In the original lawsuit, the parents of the Benghazi victims allege that Clinton lied to them about the cause of the Benghazi attack.
Klayman, the plaintiffs' attorney, also heads the conservative group Freedom Watch, and has a contentious relationship with the Clintons. He's filed numerous lawsuit against the Clintons over the years.  Clinton maintains the allegations in the lawsuit are "factually implausible."
"[S]ecretary Clinton has already explained, Plaintiffs' claims are facially implausible, completely speculative, and flatly contradicted by the findings of the recent FBI investigation," Clinton's attorney wrote in a motion filed last month.
We've reach out to Clinton's attorney for comment on the most recent filing, but have not heard back.
[screengrab via Fox 10]
READ PLAINTIFF'S MOTION BELOW
Smith V. Clinton by LawNewz on Scribd
Have a tip we should know? [email protected]
Rachel Stockman - President / On Air Host