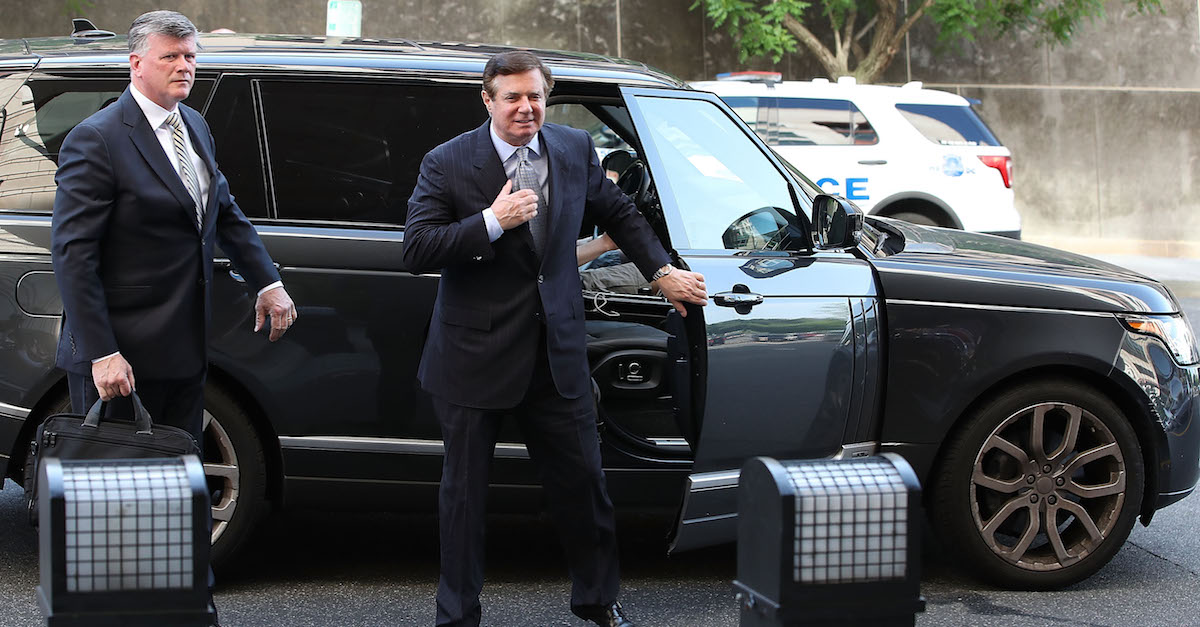 Government attorneys had a rough half-day in the Eastern District of Virginia. While Rick Gates' testimony in many ways blew the lid off the proceedings against his former boss Paul Manafort, a series of prosecutorial missteps called into question the efficiency with which Robert Mueller's deputies have been making their case to the Alexandria jury.
Here's how they stumbled: a very leading defense question was turned into a slight win for Manafort because of an over-eager attempt to block the line of questioning entirely. What could have been a quickly answered–and easily dismissed–question needlessly turned into the prosecution being painted as trying to hide something. What did it look like they were trying to hide? Gates' own admitted crimes against Manafort.
After a brief public conference, Monday began with defense attorney Kevin Downing performing a cross-examination of Kositzka, Wicks and Company (KWC) accountant Cynthia Laporta.
Downing mostly went through Laporta's prior testimony–and some of the accompanying evidentiary exhibits–in various attempts to paint KWC as an accounting firm beset by mistakes, stress, deadlines and sloppiness, in no particular order. Few fireworks there; observers in both the jury and gallery appeared largely unfazed by most of the cross-examination.
But things eventually got quite a bit more lively.
Near the tail-end of Laporta's cross-examination, the defense asked a question over the prosecution's loudly shouted objection. Downing's question raised two separate but related issues: (1) the possibility of Rick Gates embezzling "millions" from his former boss; and (2) Laporta's possible negligence or lack of expertise while overseeing Manafort's finances for tax-preparation purposes.
The government, led by Assistant U.S. Attorney Uzo Asonye, objected to the question on the grounds that there was no evidentiary basis from which to elicit such testimony. But Downing was well-prepared for this objection. The defense argued they were asking in "good faith" and claimed "the government knows" that there would soon be facts in evidence to support the controversial line of questioning because "Rick Gates is up next."
After a beat that seemed to span weeks, Asonye gave his best poker face and shrugged. This wasn't necessarily the government assenting to Downing's claims–but it could have been interpreted that way by the jury–and in any event, it wasn't an explicit disagreement.
(Asonye was later asked in an elevator whether, in fact, Gates was up next. The reporter's question went unanswered, but the government attorney was then consoled by a colleague, who said something to the effect of, "You know, that's just what he does," an apparent reference to Downing's somewhat domineering and whipsawing style of advocacy. Gates was, in fact, not up next.)
By shouting the first objection before the question was over, however, Asonye dragged out the incident and turned it into a visible spat–risking prolonged exposure to the issues raised and therefore risking a series of inferences within the minds of jurors.
Judge T.S. Ellis III appeared incredulous at the government's initial interjection and quickly overruled the objection–turning Downing's leading question-styled stunt into a much-needed round for the defense–even allowing Downing to restate and rephrase his original inquiry. The defense attorney asked:
If you knew Rick Gates had embezzled millions of dollars from Paul Manafort–unbeknownst to him–would you have picked up the phone?
To which Laporta was finally–after a good five minutes worth of squabbling–allowed to answer, "Yes, of course."
Laporta's answer immediately led the defense to raise the issue of fraud-detection practices at KWC, which oversaw the Manafort family file through 2015. Specifically, Laporta was asked why various incongruities and oddities (such as frequent difficulties obtaining necessary information when such information was requested) with Manafort's file hadn't raised red flags.
The government again raised an objection–that this second question was little more than baseless speculation–and the government was again shot down by Judge Ellis.
Laporta answered that she had some training with fraud detection; in accounting school she had to attend professional responsibility classes. As for the reason those "red flags" hadn't been raised, Laporta said, "a difficult source is a red flag on the audit side, not [on the] tax side."
During re-direct, the government mostly steered-clear of rehashing the spat over the above two questions. Instead, Asonye stuck to re-hashing some of the most damaging aspects of their case against the defendant. Namely, the millions upon millions of dollars Paul Manafort appears to have hidden from both the income tax authorities–and from professional accountants like Cynthia Laporta.
When pressed about back-shifting apparent income into so-called loans, Laporta said, "It could be considered fraud."
[image via Mark Wilson/Getty Images]
Follow Colin Kalmbacher on Twitter: @colinkalmbacher
Have a tip we should know? [email protected]